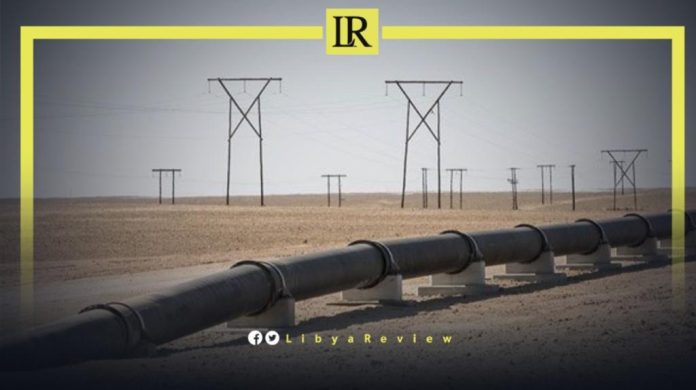 Italy's news agency, Nova ruled out the possibility of extending a new gas pipeline, parallel to the existing "Greenstream", from Libya to Italy.
A well-informed source in Italy's oil sector told the agency that "it is highly improbable to construct a new gas pipeline."
Earlier, Libya's Minister of Oil, Mohamed Aoun said that a new gas line could be extended to Italy within four to six months.
Aoun told Bloomberg on the sidelines of the "Africa Oil Week" exhibition that Libya exports about 250 to 300 million cubic feet of gas to Italy per day.
Libya, in theory, can export up to 10 billion cubic meters of gas per year to Italy through the Greenstream, the gas pipeline that connects Sicily to Eni's gas fields in southwestern Libya.
Only 3.23 billion cubic meters of Libyan gas arrived in 2021, down from 4.46 billion cubic meters the previous year. Libya, in other words, currently has a marginal impact on gas import quotas in Italy, despite a significant export capacity. This is because 65% of the gas that is extracted in western Libya goes to domestic use, with the remaining 35% going to the Greenstream.
According to an estimate by Italy's News Agency, Libya's total gas production should have been 9.23 billion cubic meters in 2021. This is against an internal requirement of approximately 6 billion cubic meters.
In late September, Aoun directed the National Oil Corporation (NOC) to begin the exploration of more blocs, both offshore and on land, in addition to developing existing discoveries.
During the Libya Oil, Gas, and Renewable Energy Exhibition, Aoun explained that this was an invitation for foreign and Arab companies to start investments in Libya. He added that it, "encourages foreign investors to see Libya, and develop the oil sector."
He noted that production at the end of 2022 will be close to the current daily production of crude oil, which is 1.2 million barrels per day (bpd).
The NOC's Chairman, Farhat Bengdara said that they plan to increase Libya's production of crude oil to 2 million bpd.
Bengdara held a meeting with the NOC's Budget Committee to follow up on the settlement of overdue salaries. They also discussed the NOC's three-year plan, according to the extraordinary budget.
Bengdara said that this "will be achieved in accordance with a 3–5 year medium-term plan, to increase crude oil production rates to two million bpd within available capabilities."