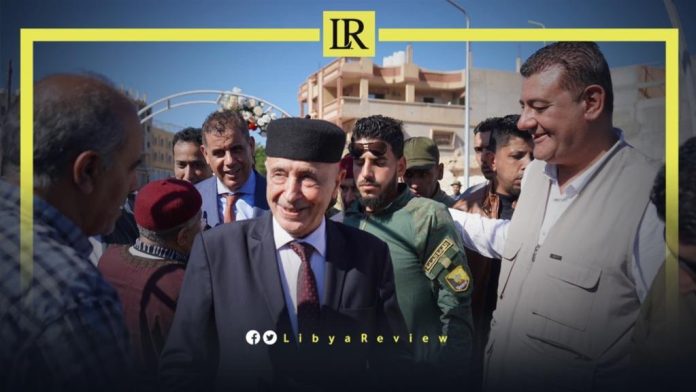 The Speaker of the Libyan Parliament, Ageela Saleh said that the "goal of the judiciary is to establish justice among the people."
This came during the inauguration of the Courts and Prosecutions Complex in the city of Derna. Saleh added that the "judiciary is a sacred mission that derives its existence from the prosecution of the humanitarian community. It gives everyone their rights, and secures fairness to the weak and the oppressed, which is the first task of the state."
The Parliament Speaker continued: "God Almighty has instituted justice, and made its approval among the people the goal of sending messengers and sending down laws and religions and rulings."
"The heavenly laws did not fight polytheism just because it is polytheism. Rather, it is for what it carries with it the sermons of injustice and tyranny, by which people deviate from justice. The establishment of justice among people is an inevitable divine duty for those who undertake it to seek help in it, by using the force that God has subjected us to, iron to great strength."
Notably, the Libyan Parliament is set to convene for a plenary session in its Benghazi office on Monday, 7 November.
This was announced by House Speaker, Ageela Saleh in a letter to lawmakers, which was released on the Parliament's website.
According to the letter, the session will be dedicated to discussing "a number of laws listed on the House's agenda."
It held a closed session on 19 October, to discuss the draft law on the Internal Security Agency (ISA).
This was also held in Benghazi, under the chairmanship of Saleh, and the presence of First Deputy Speaker, Fawzi Al-Nuwairi.
On 27 September, the Parliament approved a minimum wage of 1,000 dinars in the unified salary bill, encompassing both the public and private sectors.
During its plenary session in September, the Parliament announced the appointment of Abdullah Burazizah as the Chief Justice of the Supreme Court, replacing Mohamed Al-Hafi.