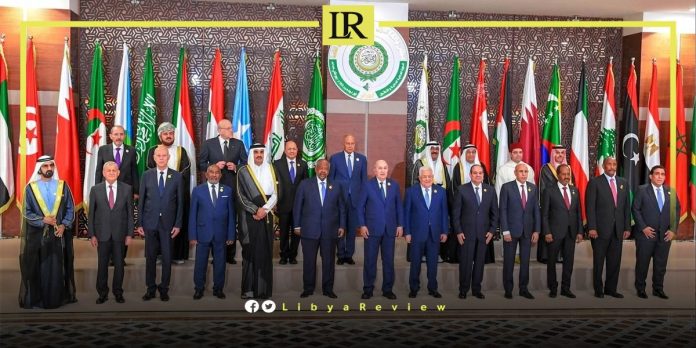 Libyan MP, Abdel-Moneim Al-Arfi expressed his wishes that the "intentions would be true, and what was approved at the Arab Summit in Algeria would be translated into reality."
In press statements, Al-Arfi welcomed "every step that would lead Libya to Parliamentary and Presidential elections and a single government." He called for "unifying Libyan institutions, contributing to the expulsion of mercenaries, and agreements on a constitutional basis."
Al-Arfi stressed that the government of Abdel-Hamid Dbaiba was "a government of corruption, which is a dilemma and a problem." He also welcomed the agreement to stop interference in Libya's internal affairs.
Arab leaders met in Algeria for their first Arab League summit since 2019. They called for a "Libyan solution" to end the crisis in the country, and voiced their hope that elections would soon be held to achieve "permanent political stability."
Divisions and fighting among rival factions meant that elections that had been scheduled for December 2021 were never held.
It made no mention of Turkey's military presence in Libya, or Ankara's recent deal with the Tripoli-based government for joint, offshore oil and gas exploration. Egypt and Greece ― both at odds with Ankara ― condemned the deal, and accused Turkey of fuelling tensions in the energy-rich east Mediterranean.
The leaders renewed their support to the Palestinians, pledging to seek full UN membership for Palestine, and to "support their effort to hold Israel accountable for its 'crimes'".
In a final communique issued at the end of the two-day summit, the leaders also rejected "foreign interference" in the domestic affairs of their nations—a thinly veiled reference to Iran and Turkey ― and reiterated their support for the legitimate government in Yemen fighting the Iranian-backed Houthi rebels.
Turning to Syria, the communique said Arab nations would collectively contribute to the search for a political settlement in the war-ravaged nation, which was kicked out of the Arab League a decade ago for its bloody crackdown on the 2011 uprisings.
The communique, called the "Algeria Declaration", was issued hours after Palestinian President, Mahmoud Abbas made an impassioned plea for help on the second and final day of the summit, urging participants to "hurry to the rescue of Jerusalem".