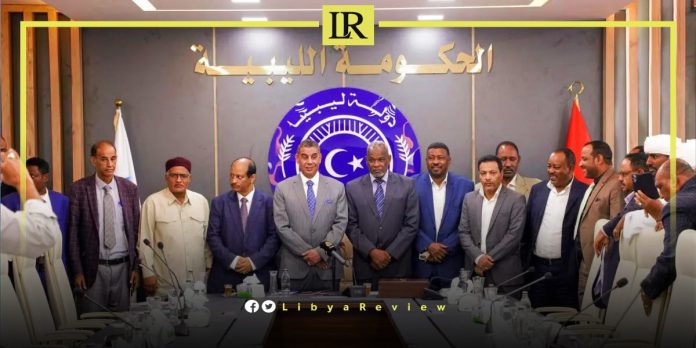 Libya's Deputy Prime Minister-designate, Ali Faraj Al-Qatrani received a delegation from the Libyan-Sudanese Joint Economic Chamber at the cabinet headquarters in Benghazi
The meeting was headed by Mohamed Ahmed Al-Zein, the Head of the Kufra Free Zone and attended by Saleh Badr Al-Zawi, the Head of the Sudanese community in the eastern region, Libya's Minister of Communications, Abdul Hakim Mohamed Al-Ghaziwi, and the Minister of Water Resources, Mohamed Abdul Karim Douma. As well as several members of the Libyan-Sudanese Economic Committee
Al-Qatrani stressed the need to "open joint horizons between the two countries and to support joint economic cooperation, because of its positive impact on the two peoples. As well as to achieve common interests in light of the availability of economic resources in the two countries."
The officials discussed a number of economic issues, including the importance of Libya's geographical location, and the employment and investment of resources in the two countries.
They also discussed the movement of transit trade, the difficulties and obstacles it faces, the movement of ports and air navigation, and the revival of the private sector and joint investment.
The meeting stressed the need to activate and approve the Kufra Free Zone, "due to its importance in competing with Libya's oil sector." They also discussed officially opening the border crossing between the two countries, to facilitate the movement of people and goods, and the establishment of water wells to be used in agricultural projects.
The meeting touched on the necessity of activating the faltering Libyan projects in Sudan, the issue of banning the import of livestock, the importance of partnerships in the industrial sector, and opening the Kufra-Darfur road.
Al-Qatrani said that "some obstacles to the activation of the Libya-Sudan joint committee remain." He stressed that the Libyan government "will work to overcome them to facilitate the movement of investors. The first steps were taken to establish the Kufra-Sudan free zone by implementing the road linking them."
He pointed out measures that the two governments will take, including opening the border crossing, providing security, and securing the movement of people and goods between the two countries. Regarding the livestock import ban, Al-Qatrani indicated that this will be referred to the Minister of Agriculture for consideration.
On his part, Douma said that "the political situation cast a shadow over the movement of joint investment with the State of Sudan, which negatively affected the implementation of the Kufra-Darfur Road project."
He added that the free zone project has been approved, and is being followed up for a final decision. He stressed the importance of supporting transit trade, and noted that the Libyan government is ready to construct water wells, once locations are identified.
In turn, Al-Ghaziwi stated that the ministry had formed committees and advisory offices to study the Kufra-Sudan road project. He pointed out that the road linking Benghazi – Kufra will be completed during the coming period.