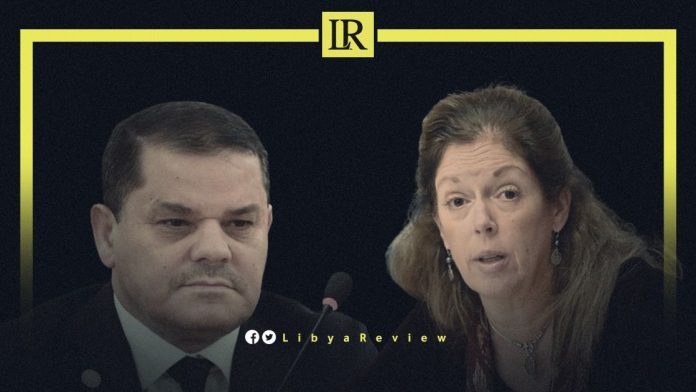 The former Special Adviser to the United Nations (UN) Secretary-General on Libya, Stephanie Williams, said that concealing the international audit report on the performance of the Central Bank of Libya (CBL) was a terribly stupid mistake.
In a press interview published by Libya's Al-Wasat newspaper, Williams said that there was a lot of resistance to exercising transparency and accountability for obvious reasons. However, she did not name the reasons.
She noted that the completion of the audit was an ideal opportunity to engage in the exercise of transparency, accountability, and implementation. "But unfortunately, the decision was made to allow the current government (the Al-Dbaiba government) to take the audit report and put it in the drawer," Williams said.
"I was told that the report had been given to Prime Minister Al-Dbaiba, who said the government would deal with this matter with the CBL. I don't know the content of the report, because at that time it disappeared. It was simply a terribly stupid mistake," Williams added.
While praising the CBL's steps by issuing a monthly statement on its activities, Williams stressed that the CBL is still not working as it should. She stressed that the CBL should be administered by the Board of Governors, "this is the Libyan banking law, and you cannot have a sovereign institution that violates the law," she explained.
Williams affirmed that the United States (US) should remain involved in the economic file. She explained that the Al-Dbaiba government is not an elected government, that it is temporary and lacks that legitimacy that comes only through the ballot box.
She said that the Al-Dbaiba government was supposed to have been given a specific task such as preparing for elections, responding to the Covid-19 epidemic and helping municipalities, not forming a huge cabinet of 27 Ministers.


Williams Suggests Electing New Presidential Council in Libya
Dbaiba Signs New Military Agreements With Turkey
Al-Mishri: CBL Governor Al-Kabir Must Be Replaced