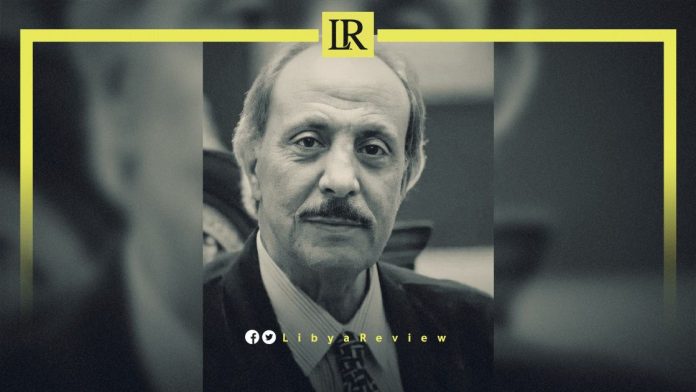 On Sunday, the Minister of Higher Education and Scientific Research in the Libyan Government-designate, Ashour Omar Al-Mismari, died due to an illness.
The Libyan Prime Minister-designate Fathi Bashagha, mourned the death of the Minister. He offered his condolences and sympathy to the family of the deceased.
The Prime Minister added that the Minister was an example of dedication to the job and the profession.
Bashagha confirmed that Al-Mismari was a major supporter of the work of the government and the sectors affiliated with his Ministry.
ِOn their part, the Libyan Ministries at the government-designate mourned the death of Al-Mismari, offering sincere condolences and sympathy to his family.
Earlier this month, Bashagha claimed his government was "seeking to advance reconciliation efforts, unify the country, and end divisions."
The Prime Minister met with members of the National Union Party in Benghazi. He affirmed that his government is "working to continue the democratic path, and support reaching a constitutional base for presidential and parliamentary elections as soon as possible."
The meeting discussed the need to "end administrative centralisation, and search for fair mechanisms for distributing resources and providing services to citizens, without discrimination."
Notably, the Prime Minister of the Government of National Unity (GNU), Abdelhamid Al-Dbaiba, claimed that his government would be able to secure elections in all regions of Libya. This came during his speech at an electoral simulation, in the presence of the newly appointed United Nations (UN) Envoy to Libya, Abdoulaye Bathily.
Libya has two opposing governments, each of them claiming that it is the only legitimate government in the oil-rich country. On the 10th of February 2022, the Libyan Parliament announced the unanimous appointment of Bashagha as the new Prime Minister. However, Al-Dbaiba warned that the appointment of a new interim government could lead to war and chaos in the country. He renewed his pledge to only hand power over to an elected government.
"The Libyans have the right to participate in the elections, and the opportunity should not be left to those who try to pass the extension projects, under the pretext of securing the elections," Al-Dbaiba said without mentioning any specific party. He thanked the Ministry of Interior for its participation in simulating the security of the electoral process, by presenting security scenarios and ways to deal with them.