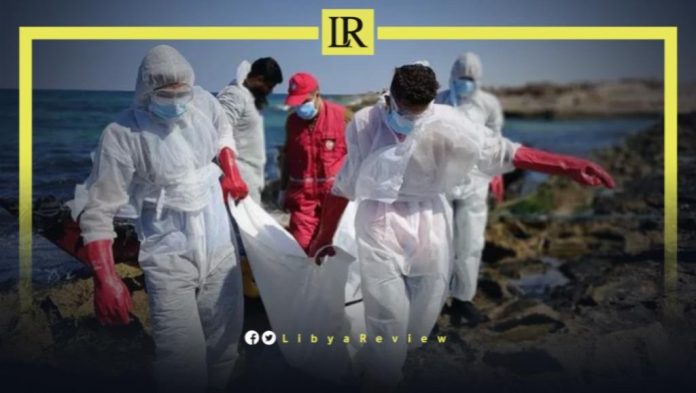 On Saturday, the Ministry of Social Affairs in the Libyan government-designate, condemned the recent massacre of migrants in the city of Sabratha. It confirmed that "this is a heinous crime in the absence of the state's prestige, and its security institutions."
In a statement, it called on the Minister of Interior to "take the necessary measures through the security services to identify the perpetrators, and deliver them to the Public Prosecution."
It stated that "what happened in Sabratha is a heinous and full-fledged crime forbidden by all religions, condemned by all laws, and renounced by all social norms and traditions." It noted that "such a crime is incompatible with the morals of Libyan society, and the true religion of moderate Islam."
The ministry called for "confronting this act at all levels, with full force and firmness." It also called on the people of the city of Sabratha to "come out and peacefully denounce what happened on their land."
The statement urged civil society institutions in the city and neighbouring cities to "condemn this shameful act."
On Friday, the Libyan Red Crescent said in a statement that rescue workers have recovered 15 bodies found on the coast in Sabratha. These included a number of bodies that were burned inside a boat, and others on the beach.
A security source in Sabratha told Reuters that the bodies were migrants caught in a dispute between two rival human traffickers in the city, a major hub for illegal migration across the Mediterranean.
The Libyan Red Crescent added that all of the bodies were recovered and placed in the hospital fridges to complete the legal procedures.
Libya has been suffering insecurity and chaos since the fall of the late leader Muammar Gaddafi in 2011.
The international medical organization Médecins Sans Frontières (MSF), or 'Doctors Without Borders' called for the evacuation of the most vulnerable migrants from Libya to safe countries. "Since the start of MSF's migration projects in Libya in 2016, we have repeatedly faced the same challenges: the impossibility of protecting migrants inside Libya, ensuring continuity of care for serious physical and mental conditions, and of rehabilitating victims of torture," it added.
MSF called on European and North American states, among others, to offer protection to migrants currently trapped in Libya. "A significant increase in the number of slots for resettlement to third countries of asylum should be promoted. Humanitarian evacuation and resettlement flights should be scaled up, and the relevant processes sped up, including quicker and smoother transit processes through facilities in Niger or Rwanda," it recommended.