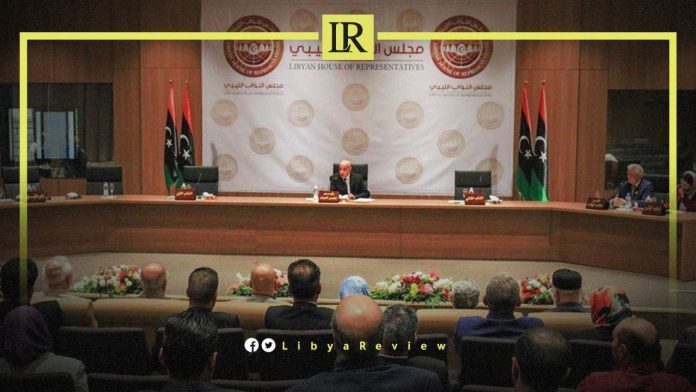 On Monday, members of the Libyan Parliament voted on the final draft of the unified salary law, "article by article." The session was headed by Fawzi Al-Nuwairi, First Deputy Speaker of the Parliament.
According to Spokesman, Abdullah Blaiheg, the House resumed its official session in Benghazi. "The Parliament will finish voting on the rest of the articles of the draft law, on Tuesday," he noted.
Last week, Chairman of the Foreign Affairs Committee of the Libyan Parliament, Youssef Al-Agouri encouraged the newly appointed French Ambassador to Libya, Mostafa Mihraje to open a Consulate in Benghazi.
During a meeting held in Benghazi, the two sides discussed bilateral cooperation, joint coordination, and recent political developments.
Al-Agouri stressed the "depth of relations with France, and the need to enhance joint coordination to face common challenges." He affirmed the need to "cooperate in combating terrorism and the migration crisis, and strengthening cooperation in the scientific and economic fields."
The Libyan lawmaker expressed his thanks for the efforts of France to support the stability of Libya.
In turn, Maharaj renewed his thanks to Al-Agouri for the efforts he made to resume teaching the French language in Libyan schools.
Field Marshal Khalifa Haftar, General Commander of the Libyan National Army (LNA) also held a meeting with Ambassador Mihraje.
The meeting dealt with the current situation in Libya, and the latest developments in the country. It was attended by the military attaché at the French Embassy.
Mihraje made his first to Benghazi, where he discussed France's role in Libya, and strengthening joint economic cooperation.
The Ambassador also discussed partnerships with civil society organisations, and teaching the French language in Libyan schools. He noted France's contribution to the reconstruction of Benghazi.
Mihraje and his accompanying delegation met with the Head of the Benghazi municipality's Executive Council, Al-Saqr Omran Bojwari, a member of the Administrative Council, Radia Al-Muzabel, and the Undersecretary of the office, Nasser Al-Ogali.