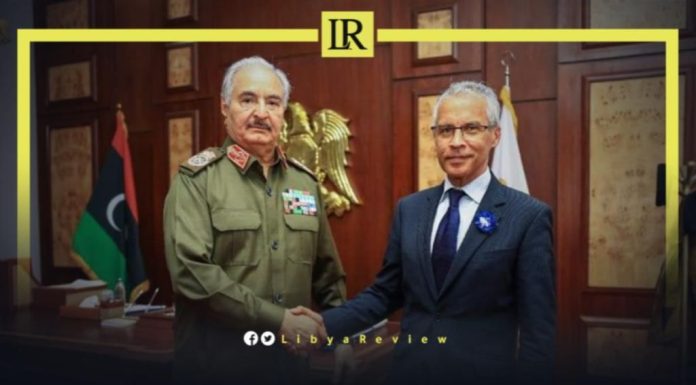 On Wednesday, Field Marshal Khalifa Haftar, General Commander of the Libyan National Army (LNA) held a meeting with the French Ambassador to Libya, Mostafa Mihraje.
The meeting dealt with the current situation in Libya, and the latest developments in the country. It was attended by the military attaché at the French Embassy.
Mihraje made his first to Benghazi, where he discussed France's role in Libya, and strengthening joint economic cooperation.
The French Ambassador also discussed partnerships with civil society organisations, and teaching the French language in Libyan schools. He noted France's contribution to the reconstruction of Benghazi.
Mihraje and his accompanying delegation met with the Head of the Benghazi municipality's Executive Council, Al-Saqr Omran Bojwari, a member of the Administrative Council, Radia Al-Muzabel, and the Undersecretary of the office, Nasser Al-Ogali.
The municipality of Benghazi added that the meeting touched on "the repercussions of the current political situation on local affairs, and the municipalities services."
The French Ambassador expressed his joy at visiting the Benghazi Medical Center and his meeting with the center's Director, Fathia Al-Oraibi. He tweeted that it was "a fruitful meeting on activating French cooperation with the medical center."
On Tuesday, the Governor of the eastern-based Central Bank of Libya (CBL), Ali Al-Hibri met with Mihraje in Benghazi. They discussed the obstacles and developments in the unification of the CBL.
The two officials also discussed Libya's economic and financial situation, and "proposed solutions to improve these conditions, and mitigate their negative impact as much as possible, including the decision of the CBL Board of Directors to amend the exchange rate of the Libyan dinar."
Ambassador Mihraje spoke about the efforts Paris is making with all parties to achieve political stability, and economic growth in Libya.