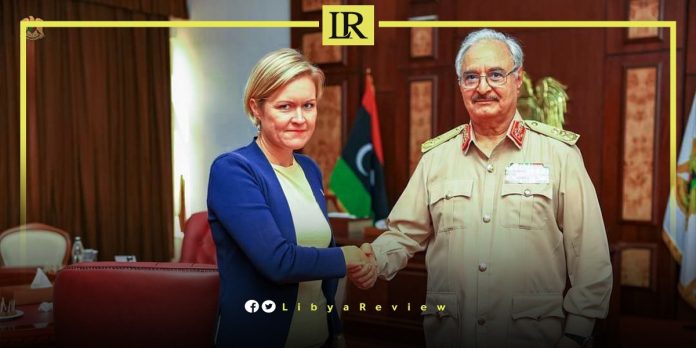 On Saturday, the Commander-in-Chief of the Libyan National Army (LNA), Field Marshal Khalifa Haftar held a meeting with the UK Ambassador to Libya, Caroline Hurndall.
The meeting took place at Haftar's office in Benghazi. The LNA has not disclosed the subject of the talks.
Last week, Hurndall held talks with members of the Libyan Parliament in Benghazi.
The meeting dealt with a number of issues, including the role of the United Kingdom in supporting security and stability in Libya. As well as the illegal immigration crisis, and its impact on the security and stability of the UK and EU.
The MP's stressed the need to hold Presidential and Parliamentary elections simultaneously, the need to remove mercenaries and foreign forces from Libya, and establish a fair, transparent, distribution mechanism for the country's natural resources.
They also discussed the unification of the executive authority, and inviting British companies to work in Libya's energy sector.
Notably, the Libyan Parliament said it is ready to support the new UN Envoy, Abdoulaye Bathily to "end the political division and to combat terrorism in the country," according to Fathi Al-Mariami, the Media Adviser to the Parliament Speaker.
During a televised interview with the Al-Ghad channel, Al-Mariami noted that Libya needs the UN Mission (UNSMIL) and the UN Envoy in order to secure a consensus between the conflicting parties. "We need consensus on the constitutional base, and the holding of Parliamentary and Presidential elections," he explained.
Notably, Libyan Parliament Speaker, Ageela Saleh and the Head of the High Council of State (HCS), Khaled Al-Mishri agreed to unify the executive authorities of Libya by 2023, they said in a joint statement on Friday.