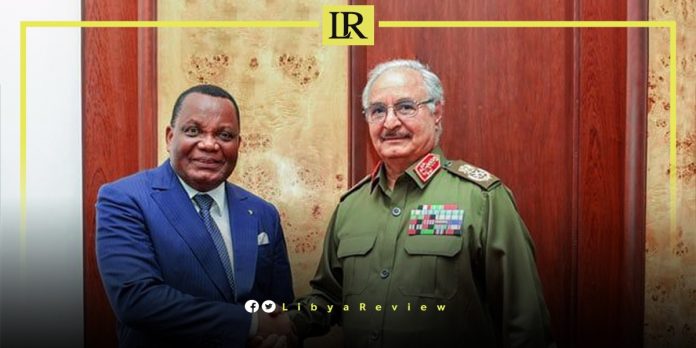 On Saturday, the Commander-in-Chief of Libya's National Army (LNA), Field Marshal Khalifa Haftar met with a delegation from the African Union headed by the Foreign Minister of Congo-Brazzaville, Jean-Claude Gakosso in Benghazi.
The delegation was received by the Libyan Foreign Minister-designate, Hafez Gaddur.
Gakosso is the representative of the Chairman of the High-Level Committee of the African Union. The two sides affirmed the AU's role in supporting Libya's stability, and the establishment of democracy.
In a statement, Gaddur said that he "affirmed his government's readiness to fully cooperate with the AU to reach comprehensive national reconciliation, that would lead Libya to stability."
Gakuso also met with the Speaker of the Libyan Parliament, Ageela Saleh. He said that "the time has come for Libya to take decisive steps towards resolving its crisis." He called on the African Union to "take a stand against foreign interference in Libya."
Notably, the Speaker of the Arab Parliament, Adel Abdulrahman Al-Assoumi held talks with the Special Representative of the UN Secretary-General, and Head of the United Nations Support Mission in Libya (UNSMIL), Abdoulaye Bathily.
During the meeting, Al-Assoumi affirmed the Arab Parliament's "firm stance to support all efforts aimed at preserving the full sovereignty of Libya, and its unity."
The Speaker also reiterated support for all efforts made by the United Nations, to end the Libyan crisis. He voiced his hope that Bathily "will be able to achieve positive progress in this path, given his long experience in resolving many crises at the regional and international levels."
Al-Assoumi stressed the need to reach a consensus on the constitutional basis for Parliamentary and Presidential elections as soon as possible. He also called for ending "all forms of foreign interference in the country's internal affairs, in addition to the withdrawal of mercenaries and foreign fighters from all Libyan territories."
"This represents a direct path to achieving security and stability in the Libyan state, and the establishment of a modern democratic civil state," he added.
Bathily affirmed his "determination to listen to all Libyan parties away from any external interference," and reiterated the United Nations' "support for a sustainable Libyan-owned solution to restore peace and stability to the country."
He also stressed the importance of "preserving the ceasefire agreement, and unifying the security and military institutions in Libya."
The UN diplomat hailed the role of the Arab Parliament in supporting UNSMIL, adding that "parliamentarians always have a supportive role in resolving such crises, based on their relatively large margin of flexibility, compared to the restrictions imposed by official diplomacy in many cases."