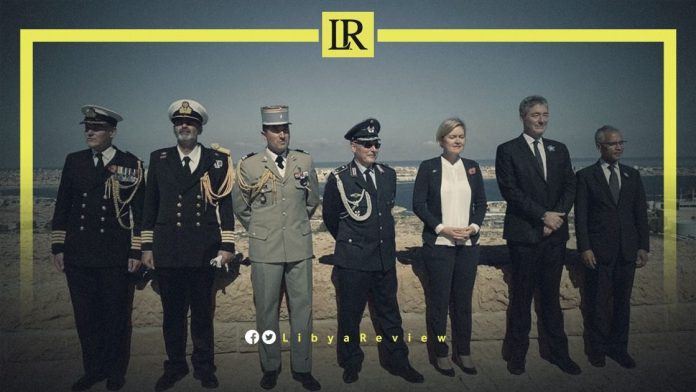 On Sunday, the Ambassador of the United Kingdom to Libya Caroline Hurndall, along with her French and German counterparts, Mostafa Mihraje and Michael Ohnmacht visited the World War II war memorials in the eastern city of Tobruk.
The visit aims to mark Remembrance Sunday, and commemorates the soldiers and officers who lost their lives in the city during the war.
"In 1942, our countries came to Libya in the middle of World War II as enemies, and many died during the battles in and around this city. In 2022, 80 years later, we have returned to Tobruk as friends," the three diplomats said in a joint declaration.
During the visit, they shared their "grief and pain with all those Libyans who have lost their loved ones from conflict."
"Yet, we are hopefully for efforts driving forward reconciliation in Libya. As enemies in the past and friends today, we know that this process takes time. To us, Tobruk is a reminder that reconciliation is a task for generations, but also that this work can bear fruits," the declaration read.
Notably, Libya is home to many WWII sites from cemeteries to forts, and memorials to parachute schools. Thousands of visitors from around the world flocked to Libya each year to pay their respects.
During the conflict, Tobruk changed hands several times and was the focus of some of the most prolonged fighting in the North African theatre of operations. The British captured the port from the Italians in January 1941, taking 25,000 prisoners in the process.
The British were then forced by the Germans to withdraw to the east, leaving Tobruk an isolated British garrison that was periodically besieged by the Germans (March 1941–June 1942). The Germans captured the city, taking about 35,000 Allied troops prisoner, and capturing immense quantities of supplies. The British finally recaptured Tobruk on 13 November 1942, after their Al-Alamein offensive.
Tobruk was subsequently rebuilt and became the residence of Libya's former King, Idris I. It was expanded in the 1960's by the building Marsa Al-Hariga, a port terminal linked to the Sarir oil field, 320 miles (515 km) south.
The British base at Al-ʿAdam to the south was evacuated in 1970. British, French, and German war cemeteries are located nearby. Tobruk lies on the Coastal Road that connects Tripoli with Benghazi and Cairo.