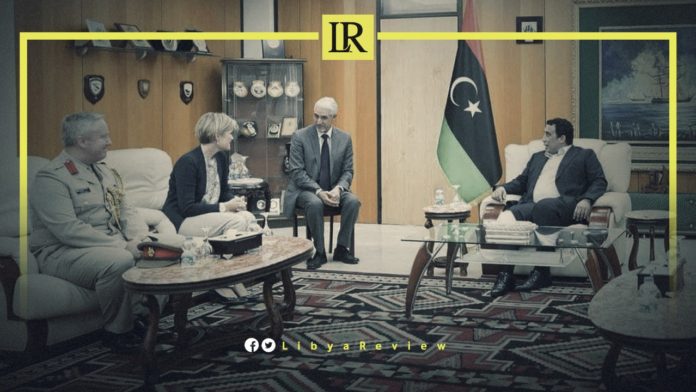 The Head of the Libyan Presidential Council, Mohamed Al-Mnifi, met with the Ambassador of the United Kingdom (UK), Caroline Hurndall. They discussed ways to develop cooperation between the two countries, according to a statement by the Presidential Council on Sunday.
During the meeting they also discussed ways to support the national reconciliation project in Libya and the continuation of the ceasefire. Hurndall stressed Britain's continued support of the Presidential Council and the interim Government of National Unity (GNU). He confirmed that his country will support Libya to work on restoring its role in the international community.
On his part, Al-Mnifi stressed the depth of the historical relations between the two countries. He praised Britain's position in support of Libya and the Preisdential Council, in international forums, by supporting the path of a political settlement.
Al-Mnifi expressed his aspiration to develop prospects for cooperation in many fields, to serve the interests of the two countries.
Last week, the Head of the High National Elections Commission (HNEC), Emad Al-Din Al-Sayeh, met with the UK Ambassador to Libya. They discussed the latest developments in Libya's electoral process.
During the meeting, Al-Sayeh reviewed the upcoming preparations for the elections. He also reviewed the options presented in the Libyan political scene with regard to the constitutional rule.
The representatives of embassies and diplomatic missions' visits to its headquarters come within the framework of the international community's support for the elections.
According to a statement by the HNEC, Ambassador Harndell expressed her government's support for the elections scheduled for the 24th of December. She also praised the efforts of the HNEC and its quest to "present a professional model that achieves the highest internationally applicable standards."
In the same context, Libyan Interior Minister, Khaled Mazen, met with British Minister of State for the Middle East and North Africa at the Foreign, Commonwealth and Development Office (FCDO), James Cleverly, in London.
They discussed cooperation in combating illegal immigration, organized crime, and cybercrime. They also discussed facilitating visa procedures for entering the two countries.
Cleverly stressed the depth of relations between the two countries and his country's support for all efforts being made to reach the elections on time.