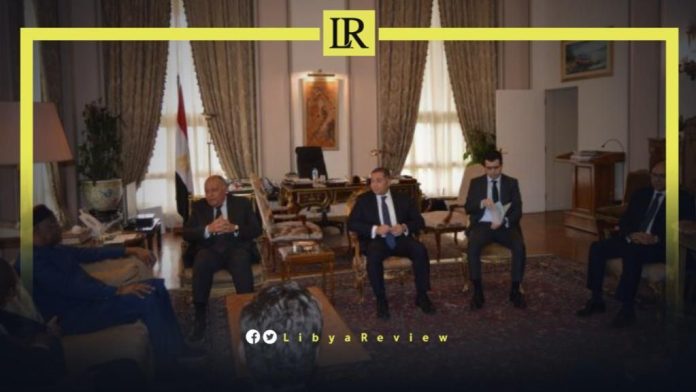 The Egyptian Foreign Minister, Sameh Shoukry received the UN Envoy and Head of the United Nations Support Mission in Libya (UNSMIL), Abdoulaye Bathily on Monday.
Shoukry expressed Cairo's "full support for restoring stability in Libya, and the centrality and impartiality of the role of the United Nations, which helps it gain the confidence of the parties inside Libya, and in the international community."
He briefed Bathily on Cairo's "continuous efforts to resolve the crisis, as Egypt has hosted rounds of the constitutional track between the Libyan Parliament and the High Council of State (HCS)."
The Egyptian FM affirmed the need to hold Presidential and Parliamentarian elections simultaneously, in order to end the crisis and achieve the aspirations of the Libyan people. "The solution should be Libyan-Libyan, and the elected Parliament should be respected."
Shoukry also stressed the need to implement UN and international decisions regarding the exit of all foreign forces, mercenaries, and foreign fighters from Libya within a specific time. He underlined the importance of supporting Libya's 5+5 Joint Military Commission (JMC).
For his part, Bathily expressed his aspiration to coordinate with Egypt during the coming period.
He agreed on the need to intensify work towards advancing a Libyan-led political solution, in order to achieve security, stability, and prosperity in Libya.
Last month, Shoukry and his Greek counterpart Nikos Dendias expressed their rejection for the Libyan-Turkish energy deal. During a joint press conference in Cairo, the two top diplomats accused Turkey of exploiting "the turbulent situation in Libya to further destabilise security in the Mediterranean region, and establish a regional hegemony."
Shoukry and Dendias said that the "outgoing" Government of National Unity (GNU) in Tripoli has been illegitimate since 24 December, and has no right to sign international agreements.

Sameh Shoukry Meets Haftar in Benghazi
UN Envoy Discusses Libyan Crisis with Turkish FM