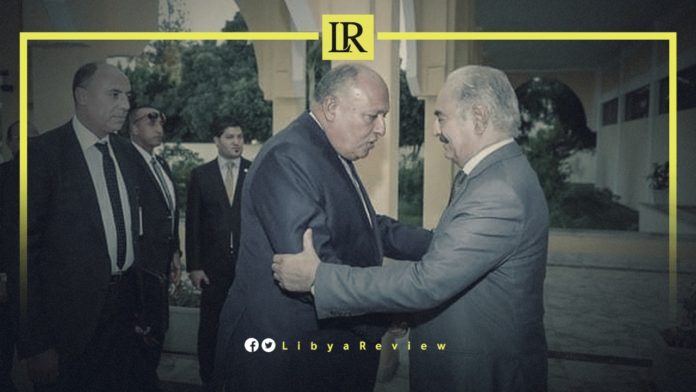 On Thursday, Commander in Chief of the Libyan National Army (LNA), Field Marshal Khalifa Haftar held a meeting with the Egyptian Foreign Minister, Sameh Shoukry in Benghazi. The meeting comes on the sidelines of Shoukry's participation in the Libya Stabilisation Conference, held today in Tripoli.
During the meeting, Shoukry stated that Egypt stands firmly alongside the Libyan people in working towards stability. He stressed that this will be achieved only after ensuring the complete withdrawal of all mercenaries and foreign forces from Libya.
In addition, Shoukry affirmed that Egypt will "do its utmost to support Libya's stability, and ensure the fulfilment of the people's aspirations to live in unity, security, and prosperity."
In a speech at the Conference in Tripoli, Shoukry called for the implementation of all terms of the ceasefire agreement, including the freezing of any military agreements signed by the warring parties. "Stability has demands, starting with ceasing violence and escalation, and building bridges of peace to achieve comprehensive national reconciliation, sustainable social peace, and protect the national identity of Libya," he claimed.
The FM added that it is important to equitably distribute Libya's wealth, in order to ensure development across the country. As well as hinting that Cairo is coordinating with the United States and EU to implement Libya's economic reform agenda, to ensure the fair and efficient utilisation of Libya's vast natural resources.
On the sidelines of the Conference, Shoukry met with a number of Libyan officials, including the Head of the Presidential Council, Mohamed Al-Mnifi and his deputies Abdullah Al-Lafi and Musa Al-Koni.
Earlier today, he discussed ways of providing a stronger impetus to realise a political settlement for the crisis in Libya, alongside his Libyan counterpart, Najla Al-Mangoush.