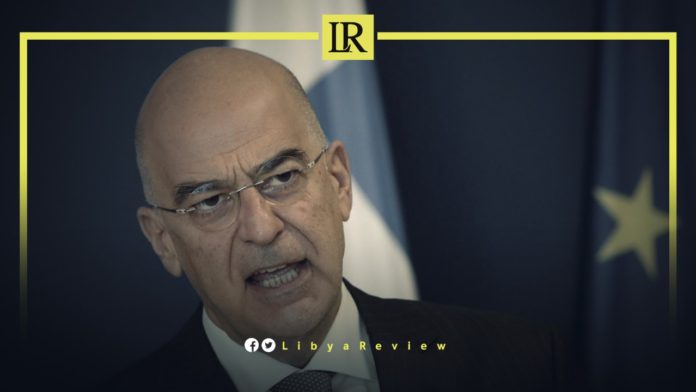 On Thursday, Greece Foreign Minister, Nikos Dendias stated that Greece was taking part in Libya's normalization process without any ulterior motives.
In his speech during the Libya Stabilisation Conference held in Tripoli on Thursday, the minister stressed that Greece only wants to, "help create a situation that improves the daily lives of the Libyan people and Libyan society and the return to normalcy."
"To that effect," he added, "there exists a timetable which includes specific actions: firstly, to hold free elections, and secondly, to see the withdrawal of foreign troops and mercenaries from Libya."
Dendias attended the Libya summit at the invitation of his Libyan counterpart, Najla Al-Mangoush. He was accompanied by Deputy Foreign Minister for Economic Diplomacy, Kostas Fragogiannis.
Some 30 international delegates attended the conference, including Egypt, Algeria, Tunisia, Morocco, Sudan, Malta, Chad, Niger, Saudi Arabia, Qatar, UAE, Kuwait, Bahrain, Turkey, the United States, Britain, the Netherlands, France, Spain, Germany, Italy, Greece, Switzerland, Russia, China, and DR Congo. As well as the United Nations, European Union, African Union, and the Arab League.
The conference comes two months ahead of planned presidential and parliamentary elections, which are scheduled for 24 December, as part of the political roadmap agreed to in the United Nations-led peace process.
"Libyans choose peace & stability today," tweeted Libyan Prime Minister Abdel-Hamid Dbaiba ahead of the conference. This comes a day after the 10th anniversary of former leader, Muammer Gaddafi's death. The conference aims to forge an agreement with all parties on a "permanent mechanism to coordinate efforts in order to solve pending issues," said Dbaiba in his opening remarks. "Tripoli has healed and regained its symbol as a unified capital. The stability of Libya is the only way to complete building our civilian, security, and military institutions. We are going to elections on time," he added.
The attendees discussed an initiative for the creation of an international group that will assist Libya's transitional government in resolving key issues. Regional and international help is needed to consolidate a UN-backed ceasefire, ensure the withdrawal of mercenaries and foreign fighters, and unify Libya's many armed groups under a single command, according to the document.