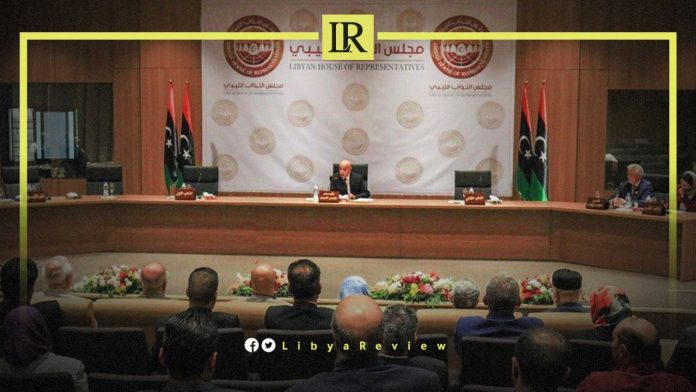 On Monday, the Libyan Parliament called on the Attorney General, Al-Siddiq Al-Sour to begin criminal proceedings against those involved in and extradition of Libyan national, Abu Ajila Masoud to the US.

This came in a letter submitted by Ashraf Al-Mabrouk, the legal adviser to the Presidency of the Parliament, to Al-Sour,

According to the letter, "This case has been settled with the US government under an official agreement, which resulted in the non-criminal liability of the Libyan state, and financial compensation for those affected by this terror incident."

Earlier today, a member of Libya's High Council of State (HCS) Saad bin Sharada condemned the "involvement" of the outgoing Government of National Unity (GNU), headed by Abdel-Hamid Dbaiba in extraditing Abu Ajila Masoud to the United States.

The Libyan intelligence officer faces charges of making the bomb that destroyed Pan Am flight 103 over Lockerbie, 34 years ago.

"The extradition of a Libyan citizen in a case that ended nearly three decades ago is treason. Compensation of about $3 billion has been settled and paid to those affected. The Libyan people have suffered from the siege for 9 years," bin Sharada told Libya Al-Hadath newspaper.

He urged for an urgent investigation into the extradition, and expressed his "deep sorrow." As well as calling for the "real reason and the price" that the GNU received for reopening a case that was closed decades ago."

On Sunday, Libyan Prime Minister-designate, Fathi Bashagha expressed his fears that the extradition took place "outside legal frameworks, and without the supervision of the Libyan judiciary. This constitutes a flagrant legal violation and infringement of Libya's sovereignty, and its national judiciary independence."

In a thread on his Twitter account, Bashagha said "Our rejection of dictatorship and aspiration for democracy and rule of law make it incumbent on all of us to respect human rights, and to try any accused citizen under a legal umbrella, with transparent judicial procedures that guarantee the right of the accused to defend themselves."

He "strongly rejected any form of terrorism, and reiterate my support for the principle of accountability and bringing all those who committed crimes to trial, provided that all this is done on basis of transparency & procedural, judicial legitimacy."

The US announced charges against Masoud two years ago, alleging that he played a key role in the bombing on 21 December 1988, according to the BBC.

Last month it was reported that he had been kidnapped by a militia group in Libya, leading to speculation that he was going to be handed over to the American authorities to stand trial.