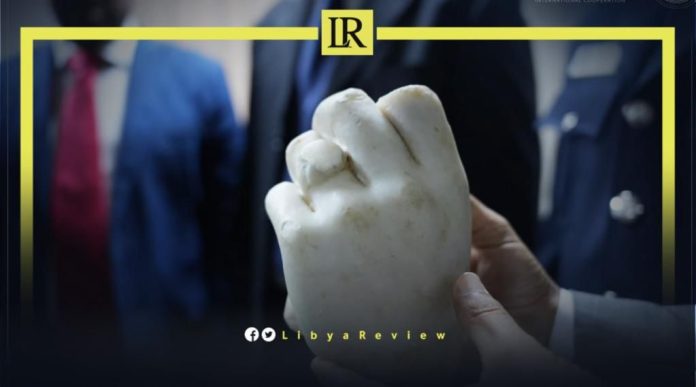 On Thursday, Libya's government announced that an ancient artifact, believed to have been looted from Libya during its civil war, has been returned from the United States.

In a statement, Libya's Foreign Ministry stated that the artifact was a hand of a marble funerary statue. It noted that it was transferred from the Libyan Embassy in Washington DC, to the Libyan Consulate General in Istanbul, and then to the Antiquities Authority in Tripoli.

The ministry indicated that this "comes within the framework of the government's relentless efforts to recover Libyan antiquities smuggled abroad."

It also expressed its "sincere thanks to everyone who contributed to the return of such ancient artefacts to the homeland." It "looked forward to permanent cooperation and coordination in the field of combating antiquities smuggling, and protecting Libyan human and cultural heritage."

Earlier this year, Libya's Embassy in Washington DC confirmed the return of a marble funerary statue to Libya, after it was looted several years ago.

The Embassy indicated that the Antiquities Anti-Trafficking Office in New York informed them that the federal investigations into the looted statue have ended. It explained that the statue is that of the Greek goddess, Persephone and was stolen from the eastern Libyan city of Shahat. There was an attempt to sell the statue, at auction, during an exhibition in New York City.

The Libyan Embassy pointed out that the investigations lasted nearly three years, and led to extensive cooperation with the US State Department to secure the return of the statue back to Libya. The Chargé d'Affairs, Khaled Daief travelled to New York to attend a ceremony on 12 January, to receive the looted statue, before transferring it to Libya.

This was the second stolen artefact to be returned to Libya in recent years. A 2nd-century BC figure, some 2,200 years old, was seized at London's Heathrow airport several years ago, after being illicitly imported, according to a press release from the British Museum.