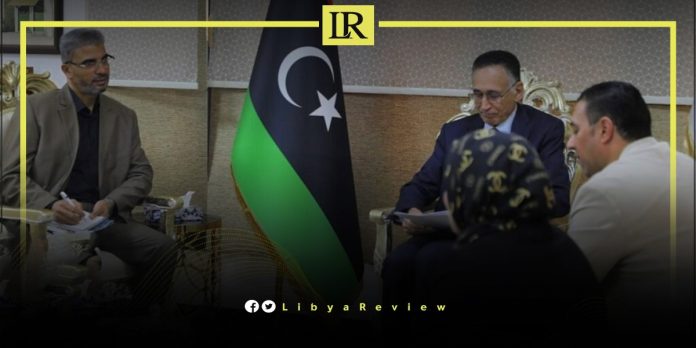 The Libyan Minister of Economy and Trade, Mohamed Al-Hwaij met with the Executive Director of the Libyan Federation of Industry, Eng. Ali Nusair.

The meeting reviewed the problems and obstacles facing local companies and factories in the export process, through land and sea ports.

They also discussed facilitating procedures for business owners and local companies through the implementation of a unified strategy that includes the Ministry of Economy and Trade, the Customs Authority, and the competent authorities. This is part of the framework of supporting local industries, and raising the quality of local products.

Al-Hwaij stressed the importance of developing the sector, and enhancing its role in diversifying the national economy. He noted that his ministry is working in coordination with the Ministry of Industry and Minerals, and the Federation of Industry to support companies and factories in the private sector.

They are also working to provide the necessary facilities for export operations, in cooperation with the General Authority of Customs to find foreign markets for local products, through the Export Development Center of the ministry.

The meeting took place in the presence of Nuri Qatati, Undersecretary for Free Zones Affairs, and Najla Al-Turki, Advisor to the Technical Department at the Customs Authority.

Notably, Al-Hwaij called on Indonesia to open its consulate in Benghazi, as soon as possible. He noted that "this will contribute to facilitating the movement of business owners and the procedures of companies and investors from the two countries."

This came during a meeting between Al-Hwaij, the Chargé d'Affaires of the Indonesian Embassy to Libya, Didi Ahmed, and the Director of the Department of Foreign Trade and International Cooperation.

They discussed the difficulties and obstacles facing Indonesian companies in Libya, and ways to address them. As well as the "mechanism for reviewing and activating bilateral trade agreements, the promotion of trade cooperation, the exchange of expertise and experiences in areas of interest, and the establishment of joint fishing factories."

Al-Hwaij invited the Indonesian Minister of Commerce to visit Libya, to enhance economic and trade cooperation, and organize joint activities involving business owners and companies in both countries.