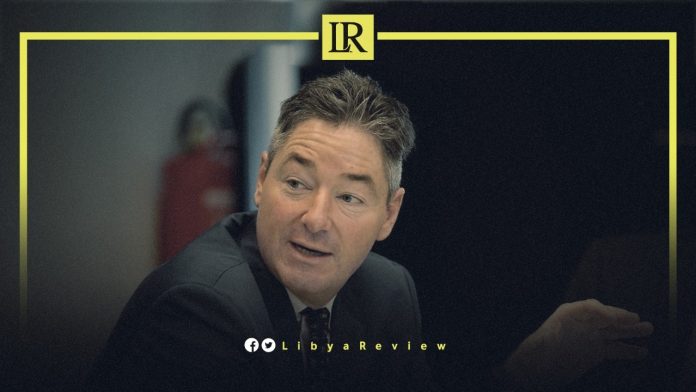 Germany's Ambassador to Libya, Michael Ohnmacht, confirmed that all the evidence shows that there will be negative repercussions if the dispute continues between the Libyan parties over the constitutional basis for the elections.

In a press statement on Friday, the German Ambassador called on the Libyan Parliament, the High Council of State (HCS), and all active institutions in the country, to respond to the aspirations of the people. It called on them to quickly put in place the constitutional framework organizing the elections. He also stressed the need for everyone to assume their responsibility.

The German diplomat appreciated the United Nations (UN) Special Envoy to Libya, Abdoulaye Bathily's endeavor to unify the international community's efforts for finding a comprehensive way out of the decade-long crisis in Libya.
Ohnmacht reiterated his country's and all European countries' call for the immediate withdrawal of all foreign forces and mercenaries from Libya.

Meanwhile, he noted that the actual removal of those foreign forces is ultimately related to the Libyans themselves," stressing his country's unwavering support for the 5+5 Joint Military Commission (JMC) with regard to the formation of "technical support groups to classify the armed groups."

The German Ambassador highlighted the outcomes of the recent meeting of the security working group of the Berlin process. These focused on the need to disarm, demobilise and reintegrate armed groups, stressing that "the solution to the crisis in Libya must be peaceful."

He stated that Germany seeks to make Libya live in peace and stability, and as a good neighbour capable of fulfilling its obligations under international law.

Regarding his opinion of the agreements signed by the interim Government of National Unity (GNU), headed by Abdelhamid Al-Dbaiba, with Ankara, the Ambassador expressed his understanding that many countries have an interest in concluding agreements with Libya. However, they must observe those agreements with international law.

Ohnmacht added, "under international law, agreements cannot be concluded between parties at the expense of a third party, noting that all maritime agreements concluded between countries must comply with international maritime law."

With regard to terrorism, the German Ambassador indicated that his Embassy is "following up on reports of terrorist threats in Libya, stressing that terrorism remains a global challenge that requires international coordination and response."

Notably, Libya has been in chaos since a NATO-backed uprising toppled longtime leader Moammar Gadaffi in 2011. The county has for years been split between rival administrations, each backed by rogue militias and foreign governments.

The current stalemate grew out of the failure to hold elections in December, and the refusal of Prime Minister Abdelhamid Al-Dbaiba, who led the transitional government, to step down. In response, the country's eastern-based Parliament appointed a rival Prime Minister, Fathi Bashagha, who has for months sought to install his government in Tripoli.