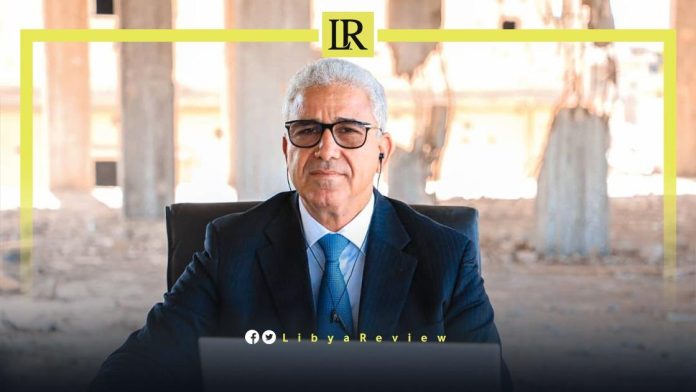 On Sunday, Libyan Prime Minister Fathi Bashagha held a meeting with the Minister of State for Women's Affairs, Intisar Abboud, to discuss ways to enhance women's empowerment in Libyan society.

In a statement, the Cabinet's media office said that Premier Bashagha stressed the need to activate the role of women and enable them to assume leadership positions. He stated that their role should not be limited to the membership in municipal councils and the administrative and service sectors.

During the meeting, which was held at the Cabinet's headquarters in Sirte, Bashagha expressed his full support for Libyan women and their empowerment in all fields due to their high efficiency and their remarkable successes at various levels.

They also discussed the difficulties facing Libyan women, their social issues, as well as ways aimed to enhance their professional, economic, and political roles.

Last week, the Deputy Head of the Libyan Presidential Council (PC), Abdullah Al-Lafi, announced the launch of the Women's Forum for National Reconciliation in Tripoli.

In his opening speech, Al-Lafi stressed that the PC "attaches the highest priority to the national reconciliation file in all its aspects. The PC seeks to secure reconciliation on sound foundations, to ensure the country's stability, and lead it to elections."

He praised the role of Libyan women who are contributing to the success of the reconciliation project. Al-Lafi explained that "since the PC took it upon itself to establish national reconciliation between the Libyan parties; it was keen on its success, as the initiative will pave the way for elections that all Libyans aspire to."

On his part, the Head of the United Nations Support Mission in Libya (UNSMIL), Abdoulaye Bathily stated that "youth and women in Libya are essential partners in the process of reconciliation, peace, and stability."

Bathily noted that he had met with young Libyan men and women from across the country, representing the Youth Dialogue Forum. "I was impressed by the ideas they presented for the way forward in Libya while talking about addressing the current political stalemate."

The United Nations (UN) Envoy stressed the necessity of including youth and women in the political process and contributing to building the future of Libya.

He reiterated that the path to achieving long-lasting peace, stability, and economic prosperity is through holding free, fair, and inclusive elections as soon as possible.

Libya has been in chaos since a NATO-backed uprising toppled longtime leader Moammar Gadaffi in 2011. The county has for years been split between rival administrations, each backed by rogue militias and foreign governments.

The current stalemate grew out of the failure to hold elections in December, and the refusal of Prime Minister Abdelhamid Al-Dbaiba, who led the transitional government, to step down. In response, the country's eastern-based Parliament appointed a rival Prime Minister, Fathi Bashagha, who has for months sought to install his government in Tripoli.