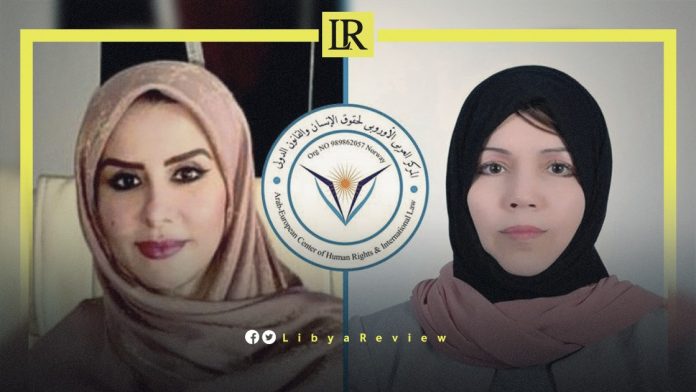 On Sunday, the Arab-European Center for Human Rights and Law nominated teacher Asya Al-Shwehdi and lawyer, Intisar Ben Achour to the list of ambassadors for peace and goodwill.
This is in recognition of their great efforts to protect human rights, and their roles as pioneers working for peace.
Ben Achour is the first Libyan woman to head a political party, and an advocate of human rights principles and values. In addition to her continuous support for Libyan women.
She was chosen for her cultural, humanitarian, social work, and voluntary efforts. Her participation in many community initiatives has "confirmed the importance of her role in supporting the culture of coexistence and spreading the values of peace inside and outside Libya."
In turn, Al-Shwehdi, a geography teacher at Misrata Secondary School, "is a strong believer in national dialogue, and local reconciliation efforts." She established a small team of Misratan and Tawerghan women, and facilitated open discussions tackling the conflict between the two cities.
Al-Shwehdi faced many challenges in her efforts, as women are not usually consulted or included in these matters.
However, with her perseverance and the continuous support of her family, she has managed to begin aiding in the reconciliation efforts. Al-Shwehdi has repeatedly called for a peaceful and safe return of Tawerghans to their homes.
The Arab-European Centre operates as an internationally accredited, independent, non-political, voluntary, and non-profit organization.
Tensions have been rising for months in Libya as two Prime Ministers vie for power; rising fears of renewed conflict two years after a landmark truce.
Libya is politically torn between Fathi Bashagha, who was elected by the Libyan Parliament to lead the country in February, and Abdel-Hamid Dbaiba, who refuses to relinquish power.
Dbaiba is also attempting to shore up control and weed out militias aligned with Bashagha. His key concern now is gaining control of various armed factions within Tripoli, who have not aligned definitively with one side or the other.