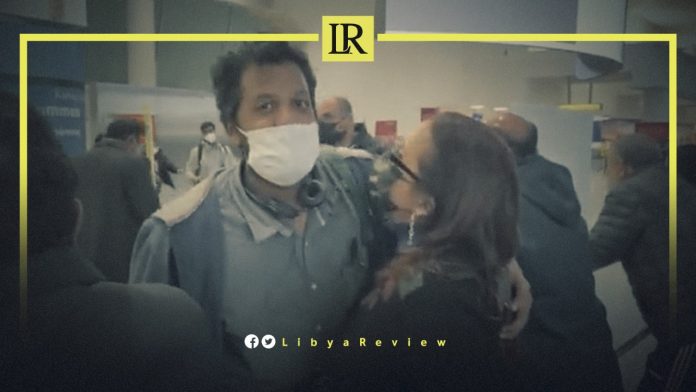 An American teacher who was detained in Libya for more than six weeks has returned to the United States, after his mother launched an appeal to release the former US Navy submariner.
Fernando Espinoza, 29, landed at New York's JFK International Airport to a welcoming party that included his mother, Sara Espinoza, and executives from the nonprofit Richardson Center who negotiated his return.
"I'm just feeling happy and grateful that he's back, and that this didn't last as long as it could have lasted," his mother Sara said.
Espinoza returned to the United States on Monday via Cairo, after showing proof of a negative PCR test, in line with COVID-19 entry rules for those countries.
A US State Department spokesperson said officials welcomed reports of Espinoza's release, but "due to privacy considerations, we are not going to go into specifics at this time."
Last week, the Libyan Ministry of Foreign Affairs condemned a report published by CNN about the detainment of an American citizen in southern Libya. In a statement, it expressed surprise that CNN published incorrect information about the arrest of, Fernando Espinoza and denounced its failure to observe impartiality and accuracy in publishing.
In its statement, it said that:
"The Ministry of Foreign Affairs and International Cooperation confirms that the aforementioned American citizen entered Libya with a valid visa and worked as a teacher in one of the schools. The visa granted to him has expired, and he was stopped in southern Libya by the security services for violating the procedures, and for his presence in tense areas without obtaining the permission of the competent Libyan authorities, despite being warned several times."
Upon his return to Tripoli, the ministry confirmed that Espinoza was detained by the "competent Libyan authorities" and "a phone call was secured for him with an American Embassy consular official "two weeks ago." As well as adding that "the Embassy contacted his family, and he was enabled to contact the American Embassy, and his mother was able to check up on him."
The ministry concluded: "Because he did not receive a vaccine against COVID-19, the process of deporting him was delayed."