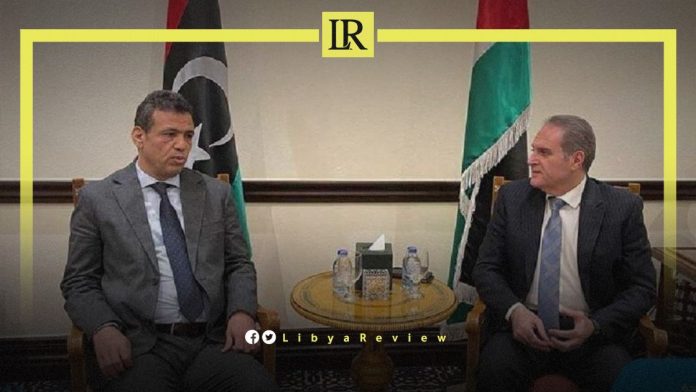 Libya's Acting Minister of Health, Ramadan Abu Jinnah, met with the Jordanian Health Minister, Firas Al-Hawari, on the sidelines of the conclusion of the Arab Board of Health Specialisations (ABHS) programs for 2022.
The Libyan Ministry of Health stated that the two Ministers discussed enhancing aspects of joint cooperation between Libya and Jordan in the health sector.
The two countries also discussed the ways to activate training programs for workers in the health sector.
Al-Hawari said that ABHS is a leading Arab institution and is considered one of the most successful institutions of joint Arab action. It is a major incubator for building the capabilities working in the health sector.
According to the Federation of Arab News Agencies (FANA) the ABHS aims at directing and refining the healthcare workers to serve the health systems in various Arab countries, in order to achieve the ABHS mission.
Celebrating graduates from the ABHS programs and honouring the outstanding ones is a new tradition that is held for the first time since the establishment of the ABHS, which comes in conjunction with the Arab Council Forum, the celebration of the 45th anniversary of its founding, and meeting with the Arab Ministers of Health.
Last week, dozens of healthcare personnel organized a demonstration in front of the Cabinet Office in the Libyan capital, Tripoli, to protest the deteriorating health conditions in the country.
The protesters called for "a full-time Minister with high experience and competence in charge of the affairs of the Ministry." The Ministry was entrusted to the Deputy Prime Minister of the Libya Government of National Unity (GNU), Ramadan Abu Jinnah.
The former Minister, Ali Al-Zanati resigned from his post in December, citing the end of the government's legal mandate, as per the United Nations (UN) peace plan, as the reason for his decision.
The demonstrators carried banners demanding an increase in their salaries, like their colleagues in other cities in the healthcare sector. They also demanded the payment of their frozen salaries since 2015.
The protesters also chanted for the dismissal of Abu Jinnah and "every official who offended them."
Services and utilities have deteriorated, the healthcare system has all but collapsed, and power outages have become the norm. However, successive governments are still promising to resolve these crises.