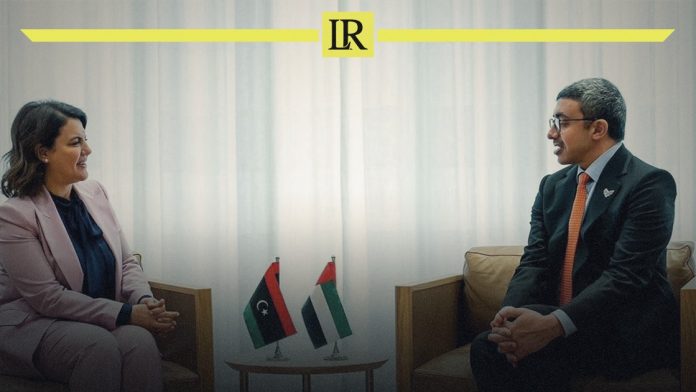 The UAE Foreign Minister, Sheikh Abdullah bin Zayed Al Nahyan met with his Libyan counterpart, Najla Al-Mangoush on the sidelines of the 77th session of the United Nations General Assembly, in New York.
Al Nahyan affirmed his "support to achieve the aspirations of the Libyan people." He also urged the international community to "work within the framework of the United Nations, which encourages peaceful dialogue and negotiation to resolve the political crisis in Libya."
The two FM's discussed "prospects for bilateral cooperation and partnership in many sectors, including energy, renewable energy, food security, economic, education, tourism, investment, and culture."
They also discussed a number of issues on the agenda of the UNGA, and exchanged views on regional and international developments. They also reviewed the global efforts exerted on combating climate change, as the UAE will host the Conference of the States Parties COP28 in 2023 in Abu Dhabi.
Last month, the UAE condemned the deadly clashes in Tripoli. It called on all parties to "immediately stop military operations, preserve the safety of civilians, government headquarters and property, and for everyone to exercise the utmost restraint, to get out of the current crisis."
The UAE called for "abandoning division, restoring calm and serious dialogue, and giving priority to the national interest, to restore security and stability in Libya."
It reiterated its calls for a "solution to the conflict in Libya, and our full support for whatever preserves the security, stability, and unity of the country. In accordance with the outcomes of the roadmap, the Security Council resolutions, and the ceasefire agreement, to ensure the success of the elections, and the aspirations of the Libyan people towards development, stability, and prosperity."
In August, UAE's President, Sheikh Mohamed bin Zayed met with Egyptian President, Abdel Fattah El-Sisi. The visit highlighted the UAE and Egypt's keenness to stabilize the situation in the region.