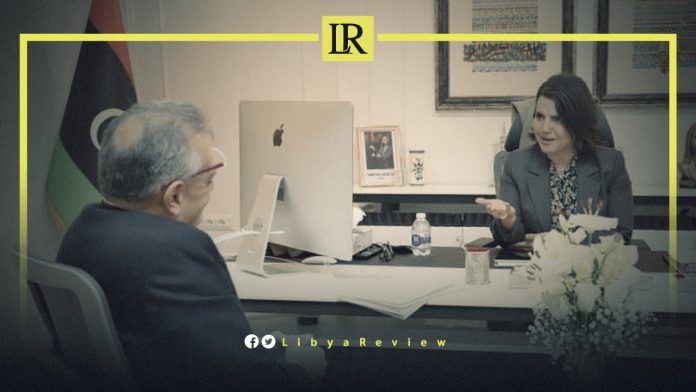 Libyan FM, Najla Al-Mangoush met with the Italian Ambassador to Libya, Giuseppe Buccino Grimaldi to discuss the ministry's initiative to resolve the migrant crisis The initiative depends on "Libyan-international" coordination to resolve the issue.
The two also discussed the latest developments in Libya, bilateral relations, and a number of issues of common concern.
Buccino affirmed his support for the efforts of Al-Mangoush and the Libyan state to achieve security and stability in Libya. He stressed that cooperation was essential for the stability of the Mediterranean region.
Last month, the Libyan FM said that Libya needs to secure its southern borders, to stop illegal immigration flows into the country.
"The problem of migrants is very complex, and I tell other countries not to transfer the problem to Libya, and not to point the finger at us claiming we are a country that violates human rights," she said at a virtual meeting for the Mediterranean Dialogues Forum held in Rome.
"Libya is not a final destination for migrants, we are a transit country, and sometimes migrants come from countries that are more peaceful than ours," she explained.
Libya has been suffering insecurity and chaos since the fall of long-time leader Muammar Gaddafi in 2011. This has made the country the preferred point of departure for migrants wishing to cross the Mediterranean to European shores.
According to the International Organization for Migration (IOM), more than 32,425 migrants, including women and children, have been rescued in 2021. Hundreds of others have died or gone missing off the central Mediterranean route last year.
In July 2021, the Italian Parliament approved the government's request to refinance the Libyan Coast Guard for the fifth consecutive year. This comes despite reports of torture, death, and more generally the systematic violation of the most basic rights of migrants in Libya.
Since 2017, Rome and Brussels have spent about €1.1 billion euros to finance the Libyan Coast Guard and the other authorities in the North African country.