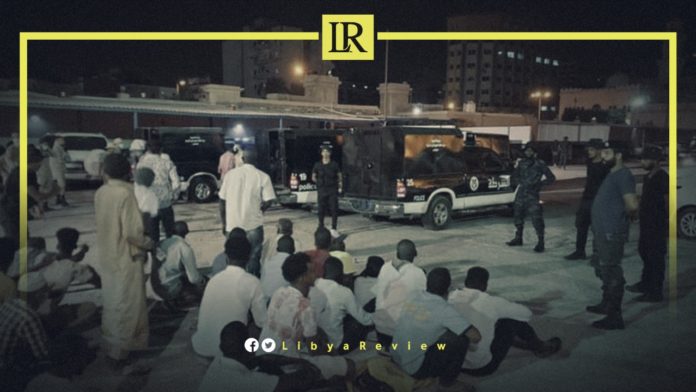 The Libyan Ministry of Interior announced that 69 migrants were arrested in Tripoli's Old City (Al-Madina Al-Kadima). On Wednesday, over 200 migrants of varying nationalities were arrested.
This came as part of a campaign carried out by the Old City office in the General Administration of Central Support to seize illegal migrants. The migrants were referred to the Anti-Illegal Immigration Authority which would take the appropriate legal measures against them.
Libya has become the preferred point of departure for migrants wanting to cross the Mediterranean towards European shores, ever since the 2011 uprising toppled leader Muammar Gaddafi.
Migrants who are rescued at sea or seized by the Libyan authorities typically end up in overcrowded reception centers across the country.
So far this year, more than 20,000 migrants, including women and children have been rescued. Hundreds of others have drowned or gone missing off the Libyan coast, according to the International Organization for Migration (IOM).
Libya's Government of National Unity (GNU), which took office in March has stated that the migration crisis is beyond its control.
Earlier this month, an alleged hideout was identified in Libya where African migrants were "kept in cages like animals," said Basheer Garba Muhammed, the Director-General of Nigeria's National Agency for the Prohibition of Trafficking in Persons (NAPTIP).
Muhammed claimed that their vital organs such as eyes, kidneys, and lungs would be harvested and sold in the black market to service the medical needs of Europe, according to the International Centre for Investigative Reporting (ICIR) in Nigeria. These claims have not been verified.
During a meeting with the Governor of Kano State, Abdulahi Umar Ganduje, to discuss strategies to curb human trafficking, Muhammed added that many Nigerians are trapped in conditions of sexual and labour exploitation in various African and European countries.