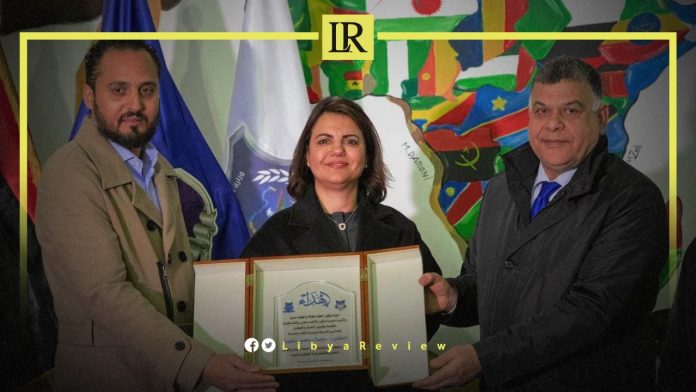 A number of photos published by the Libyan Foreign Ministry showed Foreign Minister, Najla Al-Mangoush participating in the opening ceremony of the 'Abu Salim Shelter Center' for female migrants. The center is run by female guards, a move that many considered as media propaganda, and does not reflect the reality of thousands of migrants in Libya.
Al-Mangoush participated in this ceremony, alongside the Minister of Interior, Khaled Mazen and the Head of the Anti-Illegal Immigration Service, Mohamed Al-Khoja who runs the country's detention centers.
These centers are among hundreds of detention centers that lack basic conditions for a decent life. Dozens of migrants are crowded in cramped rooms with no fresh air or potable water, and are given one or two meals a day. The center accommodates approximately 1,500 people.
Since the fall of the regime of Colonel Muammar Gaddafi in 2011, chaos has pervaded Libya. The country is the first destination for thousands of migrants trying to reach Europe to escape war, hunger, and poverty.
The shores of the west of the country have become the launching point for rickety boats run by a network of people smugglers. These are funded and protected by militias that enjoy legal recognition from the Ministry of Interior and Defense.
"We have not previously seen female employees in the prisons of DCIM prisons where lot of abuses against girls & women have been reported," the UNHCR's Special Envoy for Western and Central Mediterranean Affairs, Vincent Cochetel tweeted.
"This is an improvement, let us see what the practice will be," he added.
According to UN reports, there are nearly half a million immigrants from more than forty different nationalities suffering from torture, starvation, rape, and forced labour at the hands of militias.
The new detention center is located in the municipality of Abu Salim, a densely populated suburb with a large number of foreign workers.
According to the photos published by the Foreign Ministry and shared by Al-Khoja, the center includes a sewing factory, a kindergarten, a school, a clinic, a gym, and a ward for orphans.
"All of this is a theater, and cheap propaganda for media gain claiming that the Government of National Unity (GNU) is interested in migrants. The daily life and suffering experienced by thousands of migrants is not just a bright-coloured kindergarten while their children die of starvation, or a sewing factory while they are naked and barefoot in the streets," said an official who attended the opening ceremony, and asked for anonymity to Libya Review.
"They brought media professionals, especially representatives of the international media, to send a message to the international community that the GNU cares about migrants. They brought about twenty female migrants from African countries, put them in front of the cameras and began filming. They seemed to reject what was happening, but they were powerless. Then they took them to an unknown place," he said.
Another Libyan activist, who also requested anonymity said, "Al-Mangoush cannot hide the truth by attending such ceremonies, which have become clear to everyone that they sell illusions and falsify the truth."
In her speech during the center's opening ceremony, the FM said that this facility "reflects the GNU's interest in migrants and its keenness to improve their living conditions."
Notably, media outlets in Tripoli are banned from entering any of the detention centers in the western region.
In October, security forces began a crackdown, using excessive force and arrested more than 5,000 migrants and refugees. The operation forced hundreds of migrants to flee outside the city. Those that remained, began camping in front of a defunct UN center, demanding their immediate repatriation home. This sit-in was soon raided by security forces, where again excessive force was reportedly used.
"Tens of thousands of refugees and migrants in Libya are trapped in a vicious cycle of cruelty with little or no hope of finding safe and legal ways out," Amnesty International said in a report.
"After enduring unbelievable suffering in Libya, refugees and migrants risk their lives at sea in search of safety in Europe, only to be intercepted, returned to Libya and handed over to the same abuses from which they sought to escape," it added.