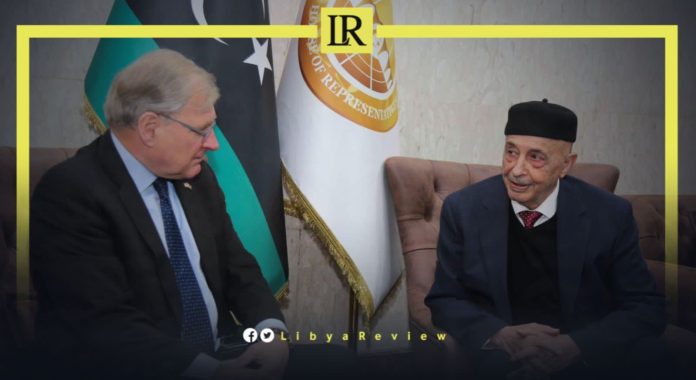 On Tuesday, the Speaker of the Libyan Parliament, Ageela Saleh held a meeting with the United States Special Envoy to Libya, Ambassador Richard Norland to discuss the latest developments in the country.

In a statement, the Parliament's media office said that they discussed the "Parliament's efforts to date to establish a constitutional basis for elections."

During the meeting, Saleh stated that "all the legislation required to hold the country's Parliamentary and Presidential elections was successfully approved through the 13th Constitutional Amendment."

The Speaker also affirmed the Parliament's "readiness to draft the necessary amendments when needed. There is no obstacle to holding the elections with regard to the necessary legislation to conduct them."

Saleh stressed the need for a unified government across the country to organize the elections, with results acceptable to all parties.

In turn, Norland asserted American support for the Special Representative of the UN Secretary-General (SRSG) for Libya, Abdoulaye Bathily. As well as his efforts to secure a basis for elections this year.

On Sunday, Saleh said that the 13th constitutional amendment "meets the wishes of the Libyans to hold both the Presidential and Parliamentary elections."

The Parliament approved the 13th constitutional amendment as a constitutional basis for elections, which was accepted by the High Council of State (HCS).

On Thursday, the HCS voted to approve the 13th Constitutional Amendment which is set to provide a basis for elections.

The amendment was passed during an emergency session chaired by HCS Head, Khaled Al-Mishri in Tripoli.

The HCS reported that during the session the 13th Constitutional Amendment was approved by a majority of members after a quorum was completed. It added that they agreed to start forming a committee to draft electoral laws, to be approved during the next session.