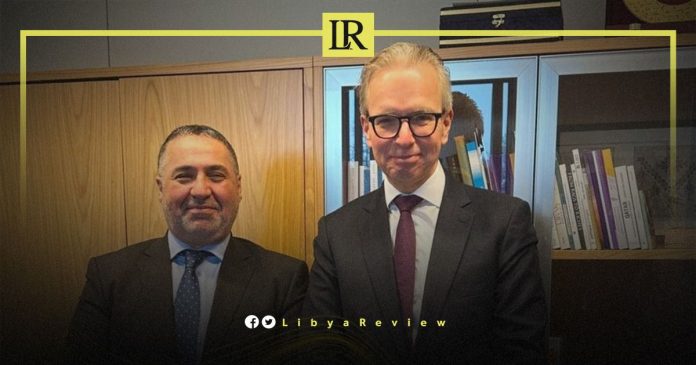 Jalal Al-Ashi, Libya's Ambassador to the European Union met Carl Hallergard, the EU's Deputy Managing Director for the Middle East and North Africa.

In a tweet, Al-Ashi said: "A constructive and fruitful meeting, this morning, with Carl Hallergard, Deputy Managing Director Middle East and North Africa. We discussed the future relationship between Libya and the European Union and support for the elections initiative."

Notably, the European Commission is working to further shore up Libya's Coast Guard, and launch anti-smuggling partnerships with Tunisia and Egypt.

According to the EU Observer news site, these proposals were outlined in a letter sent earlier this week by European Commission President, Ursula von der Leyen to Italy's Prime Minister, Giorgia Meloni.

The letter came in response to a query by Meloni to the European Commission over the recent drowning of some 70 people, including children, off the Calabrian coast.

"First, we must coordinate our actions with key patterns to prevent irregular departures, and save lives at sea," von der Leyen said in her letter.

"This includes priority funding with Tunisia and Egypt, as well as further support to Libya's maritime border management, and search-and-rescue capacities," she said.

NGO boats are currently under intense pressure from Rome's far-right government, under Meloni's leadership. Geo Barents, a rescue boat operated by Doctors without Borders, was recently detained and fined €10,000 euros by Italian authorities.

In February, the European Commission, alongside Italian authorities donated new patrol boats to the Libyan Coast Guard, and announced some €800m euros for North Africa, up until 2024.

"But those intercepted at sea by the Libyans, including in search-and-rescue zones controlled by the Maltese, are returned to a country where they are often locked up in inhumane conditions," EU Observer said.

Libya has been in chaos since a NATO-backed uprising toppled longtime leader Muammar Gaddafi in 2011. The county has for years been split between rival administrations, each backed by rogue militias and foreign governments.

The current stalemate grew out of the failure to hold elections in December 2021, and the refusal of Prime Minister Abdel-Hamid Dbaiba, who is leading the transitional government, to step down. In response, the country's eastern-based Parliament appointed a rival Prime Minister, Fathi Bashagha, who has for months sought to install his government in Tripoli.