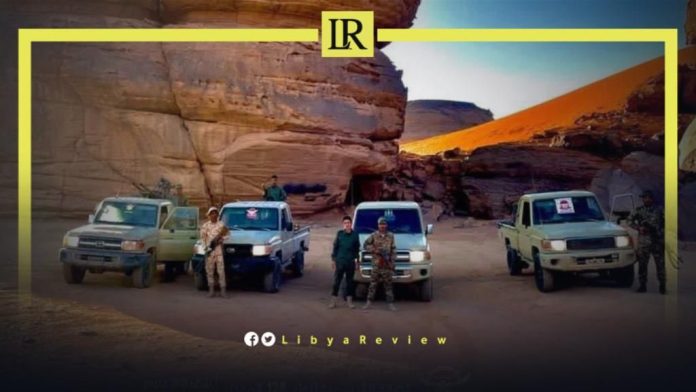 On Sunday, the 128th Brigade of the Libyan National Army (LNA) conducted security patrols across the country's southwestern border strip between Libya and Algeria, according to the brigade's media office.

According to the statement, the LNA forces started the patrols from the Ghat military base towards the Essen and Takhrhkouri border crossings along the Libyan-Algerian border.

This comes in the implementation of the Commander-in-Chief of the LNA, Field Marshal Khalifa Haftar's directives to extend security and stability throughout the country.


The LNA is seeking to secure the border in order to combat terrorism, trafficking, smuggling, and other criminal activities added the media division.


On Saturday, the Algerian government announced that it will reopen the 'Dabdab' land border crossing with Libya, for trade in the upcoming few days.

The Algerian Trade Minister, Kamal Rizik, stated that the crossing is "completely ready, and will open immediately as soon as a date is set for the next meeting."

He also urged investors to pump new investments into the emerging Libyan market, especially in foodstuffs and building materials.

Algeria and Libya share about 1,000 km worth of borders. The Dabdab crossing is one of three official border crossings, the other two being the Tarat, and Tin El-Koum, which have been closed since 2011. Dabdab had also been closed for security concerns.

Libyan Member of Parliament (MP), Ali Al-Takbali said in February that he supports the call of fellow MP, Souad Abdallah for the demarcation of the borders with Algeria. This follows reports that Algeria had annexed several kilometers of the oil and gas-rich village of Essien, near Ghat, in southern Libya.

In a press statement, Abdallah said that the demarcation of the borders "is important after rumors about the penetration of the border area in the far southwest of Libya from the Algerian side, at the village of Essin near Ghat."

Al-Takbali claimed that Algeria had, and still has expansionist goals to annex the oil-rich city of Ghat. "Algeria has been doing this since the Gaddafi era," the Libyan lawmaker added.

He affirmed that smart field technologies will put an end to the ambitions of neighbouring countries in Libya's oil and gas. "The technology will speed up the process of exploring oil wells and gas fields on the common border areas," he explained.

He urged Libya's state-owned corporation, the National Oil Corporation (NOC), to establish smart technology inside all fields, in order to develop the exploration process.