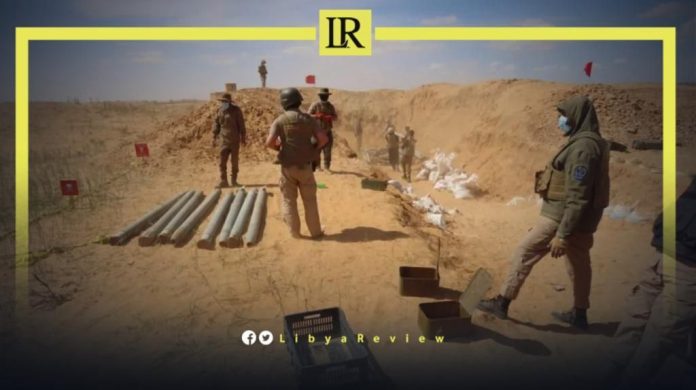 On Sunday, Libyan authorities managed to dismantle twenty tons of explosives, mines, and war remnants from several areas of southern Tripoli, Al-Jafara, and the Jabal al Gharbi Districts.
The Office of Explosives Dismantling of the Technical Affairs Department of the Criminal Investigation Agency carried out a wide-sweeping campaign in the Gharyan and Jafara areas.
The statement added that a specialised team continues to destroy a large number of explosives that were found during the last week.
Since 2019, landmines and other explosive ordnance contaminated 720 million square meters in southern Tripoli. These have caused the deaths and displacement of thousands of residents, the Mine Action Centre reported. In addition to at least 200 recorded injuries.
In November 2022, the United Nations Support Mission in Libya (UNSMIL) and the United Nations Mine Action Service (UNMAS) expressed their deep concerns about the continued loss of civilian lives, due to unexploded ordnance in populated areas.
The two UN bodies said in a joint statement that another child tragically lost his life when he found and played with a grenade that was left behind by Libya's warring parties.
"The United Nations International Children's Emergency Fund (UNICEF) and UNMAS are deeply concerned by the continued loss of civilian lives, especially children, from explosive remnants of war and urge all Libyans to be aware of the risks," the joint statement said.
The statement revealed that three brothers were grazing their sheep in the suburbs of Tajoura, northwestern Libya when they found the grenade. "The youngest, aged six, tried to collect it, causing an explosion and his tragic death. His two brothers, nine and 12, were severely injured, with one boy losing his hand."
The UNICEF Representative for Libya, Michele Servadei, said "explosive ordnance will continue to endanger civilians for many decades to come, and in particular children."
"We call upon all armed actors to stop the use of explosive weapons in populated areas, and to put in place measures to protect civilians, in particular children," Servadei said.