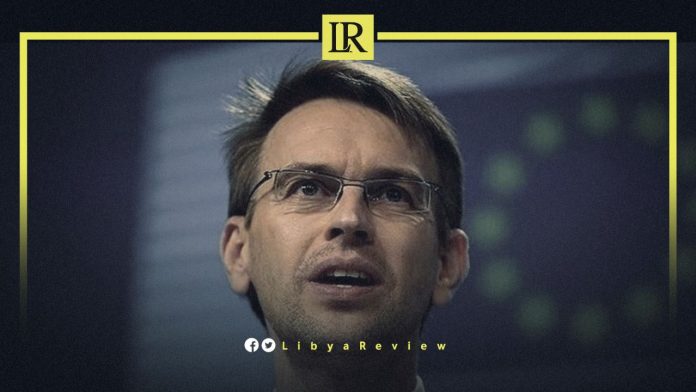 The European Union Spokesman for Foreign Affairs and Security Policy, Peter Stano denied what he described as "allegations that the European Union intends to push and keep migrants in Libya."

In press statements, Stano stressed that the European Union "does not finance any Libyan entity, and does not give material funds to partners in Libya."

He indicated that "what they are doing is allocating a lot of money, which is usually used by international partners and passes through the United Nations."

"Doing nothing is not an answer. Our goal, our common goal, is to help improve the situation of people stranded in Libya," said Commission Spokesman, Peter Stano.

"Of course there are incidents. There are issues that are a source of concern. We are trying to resolve them with the partners in Libya, and with international partners," Stano told reporters in Brussels. He added that the EU mission in Libya had cooperated with the investigators.

On Tuesday, the EU insisted that it was not physically handing over money to Libyan entities, after a UN fact-finding mission accused the 27-nation bloc of "encouraging human rights abuses and other crimes" in the country, according to Euronews.

In a statement, the EU said that Libya "is an important jumping-off point for people from North Africa and beyond, who wish to make the perilous crossing of the Mediterranean sea in poorly maintained boats, in search of a better life or a refuge in Europe."

According to the International Organization for Migration (IOM), at least 529 migrants died, and 848 others went missing off the coast of Libya last year. More than 24,680 people were intercepted by the Libyan Coast Guard, as they attempted to leave the country and then brought back.

Presenting the fact-finding mission report on Libya, Investigator Chaloka Beyani said EU assistance to the Libyan authorities, the migration department, and the Coast Guard "helped and encouraged the commission of these crimes, including crimes against humanity."

The report stated that the migrants, some of whom could have been granted asylum, "were apprehended, detained, and disembarked in Libya with the sole aim of preventing their entry into Europe. As a corollary of the European policy on immigration and the economic agenda of migration in Libya, through their subsequent detention and exploitation."

The European Commission, the EU's executive body, said it took the allegations "very seriously." It stressed that its work in Libya was essential, and often carried out in coordination with UN agencies such as the IOM and the United Nations High Commissioner for Refugees (UNHCR).