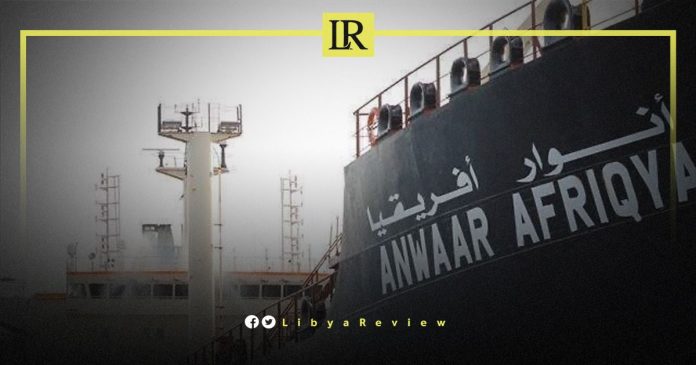 On Thursday evening, Libya's Cases Department reported that it had succeeded in lifting the seizure imposed on the Libyan tanker (Anwar Afriqya) by the Greek authorities, amid a judicial dispute.

In a statement, the department said that the Disputes Committee handled the case abroad. It was led by Counselor, Ahmed Mukhtar Bazama, Head of the Cases Department, who succeeded in lifting the seizure of the Libyan tanker, which is owned by the General National Maritime Transport Company (GNMTC).

The statement added that the tanker was detained by the Greek authorities, against the backdrop of a lawsuit filed by the Greek construction company, Regina. The Greek judiciary ordered its seizure, after the Libyan state refused to pay debts owed for projects executed by Regina for the Interim Committee for Defence, during the regime of Muammar Gaddafi.

The Cases Department also indicated that, "accordingly, the Greek judicial authorities seized the tanker (Anwar Afriqya). We followed up on the case, until the court's decision was issued, and presented a defence on behalf of the Libyan state. The court decided on 14 March to release the tanker, which left the port of Gioito League."

Last week, the Speaker of the Libyan Parliament, Ageela Saleh met with a Member of the Greek Parliament, Andreas Loverdos in Benghazi.

The two sides discussed developments in the situation in Libya, and bilateral relations. Especially, at the level of Parliamentary cooperation.

The meeting was attended by the Director of the Parliament's Office of Presidential Affairs, Awad Al-Fitouri and the Greek Consul General, Stavros Venizelos.

Last month, the Consulate General of Greece in Benghazi announced that from 12 February 2023, Schengen visas for Greece will be handled through the Visa Application Center operated by VFS Global.

In a statement, the Consulate confirmed that electronic appointments must be made only through the website https://ly-gr.gvcworld.eu/en.

It added that the website contains all the information on the application, required documents, fees, working days and hours, help center telephone number and email. The information is in English, and it will be in Arabic soon.