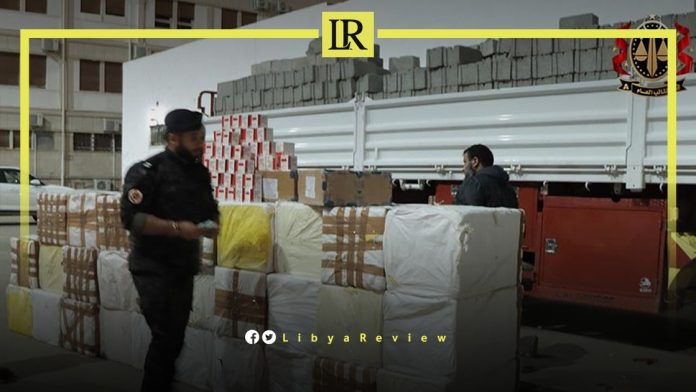 The Libyan Attorney General's Office announced the arrest of 17 suspects, including employees at the Misrata seaport.

The Attorney General also issued warrants for the arrest of 30 others, all accused of being involved in a drug trafficking ring.

The case is related to the supply of approximately 3 million tablets of the drug known as "Pregabalin" in the cities of Zliten, Zawiya, Al-Ajilat, and Al-Zintan.

According to the statement released by the Attorney General's Office, the suspects forged and used fake official documents related to the approval of importing the drugs through the seaports.

The suspects entered the drugs into the country through illegal means and then sold them on the black market in the aforementioned cities.

They have confessed to their involvement in drug trafficking and obtaining the drugs from multiple sources. The Attorney General's Office has also called for the extradition of those involved in the drug trafficking from abroad.

Last month, six international drug smugglers were killed in clashes with forces affiliated with the Libyan Government of National Unity (GNU).

According to a statement released by the Libyan Army's 444th Combat Brigade, the Libyan forces set up an ambush in the desert, and arrested three smugglers. They also destroyed a convoy of several armed vehicles that were cutting off roads, and smuggling narcotics.

"After armed clashes, our forces were able to target all the vehicles and kill six foreign smugglers, and three others were arrested," the statement said.

Two soldiers from the Libyan army were injured, during the clashes.

In June, the Criminal Investigation Department (CID) in Libya successfully intercepted a large drug shipment from Benghazi to Misrata and apprehended the drug dealer behind the operation.

This bust was conducted following intelligence received by the CID's investigation and inference unit indicating that a consignment of cannabis was to be transported from Benghazi to Misrata. The source further confirmed the details about the vehicle type, color, and other specifics, which was loaded onto a car carrier truck.

Drug trafficking is a major issue in Libya, with the country serving as a transit point for drugs smuggled from Africa to Europe. The ongoing political crisis and instability in the country have made it difficult to control drug trafficking and other criminal activities.