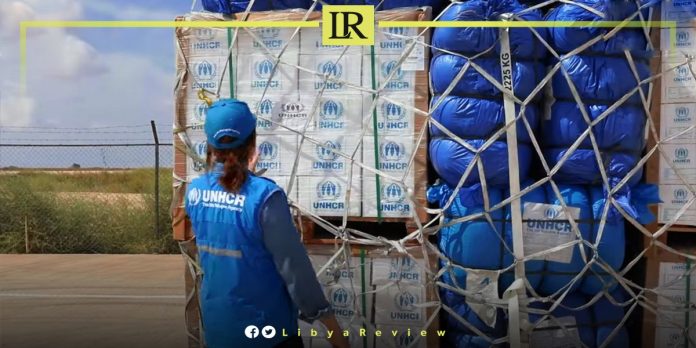 On Saturday, the United Nations (UN) Refugee Agency made a significant move in response to the recent floods in Libya. It dispatched a massive 53-ton shipment of humanitarian supplies.
This was confirmed by Rana Al-Qusaifi, Deputy Chief of the Refugee Commissioner's Mission, who announced that the cargo was received by rescue teams at Benina Airport.
Detailing the contents of the aid package, Al-Qusaifi mentioned that it includes essentials like blankets, plastic covers, kitchen tools, and solar-powered lamps. These supplies are earmarked to assist around 10,000 flood-affected individuals, providing them some respite from the aftermath of the devastating natural disaster.
Last week, the UN World Food Programme (WFP) issued an urgent appeal for donations to aid the victims of the storm Daniel.
Notably, the International Organisation for Migration (IOM), revealed that the recent floods in northeastern Libya have forced an estimated 43,059 individuals to flee their homes.
In a recent report, the IOM said the scarcity of water supply has been a driving factor behind the displacement of many residents from Derna. This shift has contributed to a decrease in the overall number of displaced individuals within Derna itself.
As the situation develops, more displaced individuals are relocating to eastern areas, such as Tobruk, where approximately 1,320 people have sought refuge. Benghazi has also seen an influx, with around 730 seeking shelter there. The majority of these are being hosted by relatives and extended families.
According to the IOM, field observers have reported that displaced families from Derna are also seeking refuge in Tripoli, Misrata, Gharyan, and Qasr bin Ghasheer. Many of them are temporarily staying with host families, who have opened their doors to provide shelter.
On the 10th of September, a devastating storm swept through several eastern regions of Libya, notably the cities of Derna, Benghazi, Al-Bayda, Al-Marj, and Sousse. This resulted in significant destruction and led to the loss of thousands of lives, injuries, and missing individuals.