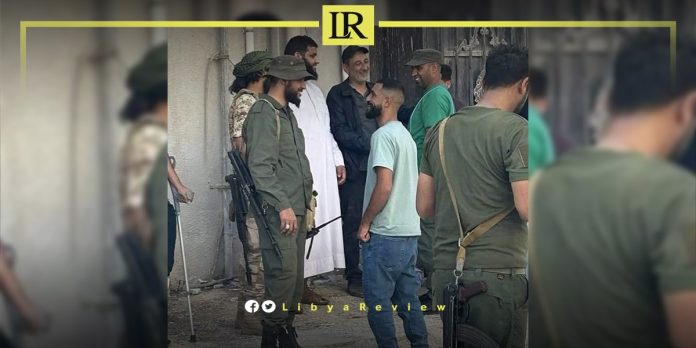 On Friday, Benghazi witnessed armed clashes between the Libyan National Army (LNA) and forces led by former Government of National Accord (GNA) Defence Minister, Mahdi Al-Barghathi. Communications within the city were severed, and attributed to sabotage by an armed group, disrupting optical fiber cables at multiple locations.
The armed group, reportedly related to Al-Barghathi, "accessed the city illicitly, avoiding checkpoints and carrying light and medium weapons." This group supposedly partook in several violent incidents, including the 2017 Barak Al-Shati massacre, and attacks on oil ports and areas like Sultan and Jelidia in 2016.
Al-Barghathi's tribe stated on Saturday that his return was "conducted in consultation with some tribal elders." Upon his return, he was met by military vehicles intending to arrest him, sparking confrontations, as his apprehending forces did not adhere to military hierarchy nor were part of the military police.
The United Nations expressed concern regarding the clashes, and ongoing communication blackout in Benghazi. They are investigating reports about civilian casualties, and reminded those involved about their duty to protect civilians.
The Libyan Parliament-designated government, headed by Prime Minister Osama Hammad described the incident as a "limited security operation against a disruptive group," criticising the UN Mission's (UNSMIL) portrayal of the event. Hammad highlighted the mission's history of hastiness, and later retractions in publishing statements, deeming it "shameful."
These events open a new chapter in the political and security instability that plagues Libya, with potential implications on the national reconciliation process and civil peace. The disruption and violence present substantial obstacles in the path toward unifying the nation, under a single, stable government.
The Prime Minister of the Government of National Unity (GNU) Abdel-Hamid Dbaiba claimed that Benghazi's security situation was unstable. "Extraordinary events and armed confrontations have been occurring in one of the civilian neighbourhoods for several days. The city has witnessed intentional communication network cutoffs, isolating it from the outside world," he said.
Dbaiba has called on the Attorney General, Siddiq Al-Sour to investigate the events in Benghazi. He also urged the security forces in Benghazi to "protect the city's residents and unveil the reality of the ongoing events there."
A report by Crisis 24, affiliated with GardaWorld – a company concerned with risk management, crisis response, consulting, and global protection solutions – spoke of the arrest of Al-Barghathi. This situation has neither been denied nor confirmed by any official sources.
Among those arrested is a member of the Benghazi Shura Council, Mohamed Saleh Younes Aqeem 'Al-Maghribi'. He is the cousin of Ali Younes Aqeem, the Emir of IS in Libya, who was killed in a US strike in Sirte in 2016, and had previously participated in attacks on the Oil Crescent.
Al-Maghribi, the right-hand man of Al-Barghathi, has hinted at an attack on Benghazi.