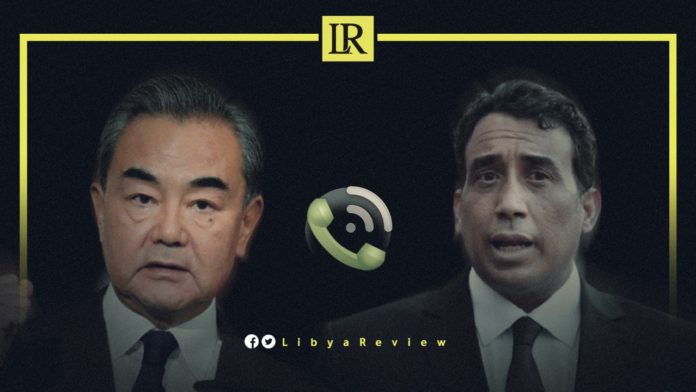 The President of Libya's Presidential Council, Mohamed Al-Mnifi, held talks with China's Minister of Foreign Affairs, Wang Yi, on Friday to discuss the latest developments in Libya and ways of enhancing bilateral cooperation.
The Chinese top diplomat called on all Libyan parties to steer clear of disruptions and overcome difficulties to promote the process of political settlement in the country.
These remarks came during Al-Mnifi's meeting with Wang made on the sidelines of the general debate of the 76th session of the United Nations General Assembly (UNGA).
"The Chinese and Libyan people share traditional friendship", Wang said, noting that China firmly supports Libya in safeguarding its national sovereignty, independence and territorial integrity. It also supports the efforts of Libya's authorities in maintaining stability, rebuilding the economy, and advancing general elections and political process according to schedule.
"China appreciates Libya's firm adherence to friendly policy toward China and its valuable support on issues related to China's core interests and major concerns," Wang noted.
China is willing to stand firmly with Libya to jointly uphold the principle of non-interference in internal affairs, a basic norm governing international relations, and safeguard the two countries' legitimate rights and the common interests of developing nations.
Noting that the political process in Libya is at a critical stage and the peaceful situation is hard-won, Wang urged all parties to truly implement the "Libyan-led and Libyan-owned" principle, respect the choice of the Libyan people, and take Libya's legitimate concerns and reasonable aspirations into account.
Wang also called on all parties to stick to giving play to the United Nations' (UN) role as the main channel of mediation, and fully listen to the opinions of all factions in Libya as well as neighboring countries.
All parties should further strengthen international anti-terror cooperation and intelligence exchanges, and strictly guard against the cross-border movement of terrorists, so as to prevent extremist and terrorist forces from regaining strength in Libya, Wang said.
On his part, Al-Mnifi said that the two countries historically have friendly relations, and China is a true partner and friend of Libya. He expressed gratitude to China for consistently supporting the choice of the Libyan people and giving valuable support to the formation of a national unity government in Libya.
Practical cooperation between Libya and China has achieved fruitful results and played an important role in maintaining social stability, the Presidential Council Head said. He added that Libya is ready to work with China to open up a broader prospect for the two countries relations.