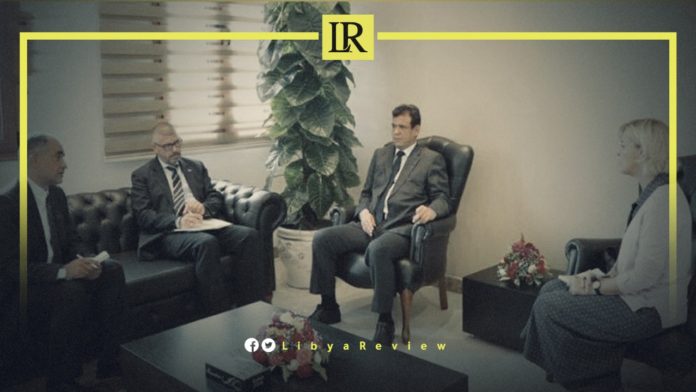 On Wednesday, Deputy Prime Minister of Libya's Government of National Unity (GNU), Ramadan Abu Janah, held a meeting with the Head of the European Union Mission in Libya (EUBAM) Jose Sabadell, and Sandra Goffin, Head of operations at EU Delegation to Libya. This was to review the EU's activities in the south of the country.
During the meeting, they discussed the technical and advisory support provided by EUBAM through the Promoting Elections for the People of Libya (PEPOL) project. This is being supervised by the United Nations Support Mission in Libya (UNSMIL) and the United Nations Development Program (UNDP).
Sabadell reiterated the EU's support for the Libyan people in reaching peace and stability, and expressed his desire to work for the success of the development projects and programs during the coming period. He also added that the EU is ready to do more to support the organisation of Libya's December elections, in particular by supporting the reform of the security sector. He welcomed, "the many advances made over the past year including the ceasefire, unified political institutions, and roadmap for elections," and insisted that, "it is time to implement and consolidate this progress".
Libya has been racked by chaos and violence since the 2011 NATO-backed uprising that ousted Muammar Gaddafi. The GNU was elected earlier this year to lead the country to elections set for 24 December 2021.
On Tuesday, the Libyan Parliament voted to withdraw confidence from the GNU with 89 votes out of the 113 deputies attending the special session.
On Wednesday, Egyptian President Abdel-Fatah El-Sisi received US National Security Advisor, Jake Sullivan in Cairo. They discussed regional issues, especially the developments in Libya, Tunisia, Syria, Yemen, and Iraq.