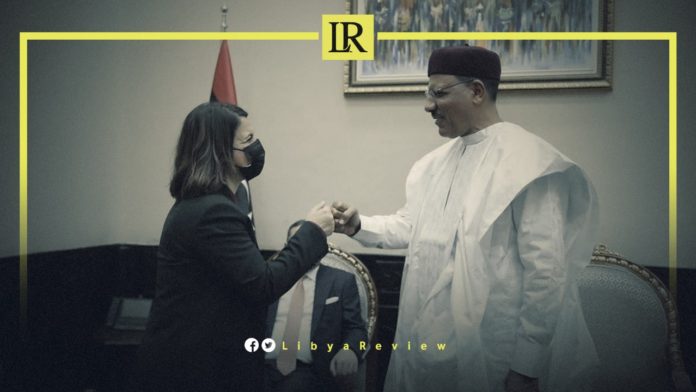 On Wednesday, Libyan Minister of Foreign Affairs, Najla Al-Mangoush stressed the need to expedite the implementation of the Quartet Agreement on protecting and securing common borders with neighbouring countries.
The agreement was signed between Libya, Chad, Niger, and Sudan in May 2018 with a view to secure the borders.
During a meeting with the President of the Republic of Niger, Mohamed Bazoum in Niamey, Al-Mangoush claimed that the quartet agreement would put an end to terrorism, transnational organized crimes, smuggling, and illegal immigration.
The Libyan FM explained that the enforcement of this agreement would enhance security and stability for the entire region.
Notably, Libyan Prime Minister, Abdel-Hamid Dbaiba arrived in Niger earlier today on a "short official visit", leading a delegation that included a number of ministers and businessmen, according to a government statement.
In addition, the PM held talks with President Bazoum to review illegal immigration from northern Niger to southern Libya, and border security.
Bazoum hailed the efforts to achieve peace and security in Libya. He claimed that despite the challenges, Libya remains an important factor for regional stability.
Notably, the quartet states agreed "on the establishment of a cooperation mechanism for border security and the fight against transnational organized crime."
The political instability in Libya after the collapse of Muammar Gadaffi's regime impacted the whole region negatively, particularly neighbouring Niger, Chad, and Sudan.
Al-Qaeda in the Maghreb (AQIM) and Boko Haram pose a serious threat to Niger and Chad, while Sudan seeks to prevent trafficking of arms to Darfur and migration of mercenaries to Libya.