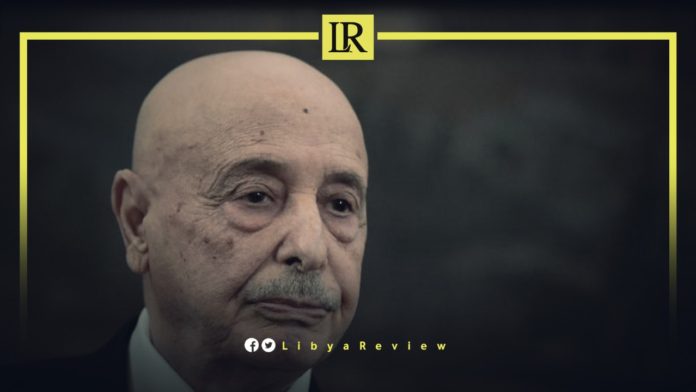 On Saturday, the Speaker of the Libyan House of Representatives (HoR), Ageela Saleh, received the Algerian Ambassador to Libya, Kamal Hegazy, in his office in Al Qubbah city.
In a statement issued by the Parliament's Media Office, the two sides discussed ways of enhancing bilateral relations between their countries.
They also emphasized the need to hold the upcoming presidential and parliamentary elections on time, allowing the Libyan people freely to choose their President.
During the meeting, Ageela Saleh valued the historical relations between the two brotherly countries, highlighting the Algerian role to find a permanent solution to the Libyan crisis.
In turn, the Algerian Ambassador handed Saleh, a written message from the Speaker of the Algerian National People's Assembly, Ibrahim Boughali, which aims to strengthen bilateral relations between the two countries.
He also underlined the importance of building confidence among parties concerned with the Libyan crisis to provide an appropriate atmosphere for coming elections.
In September, Algeria hosted a meeting of countries neighboring Libya, including, Egypt, Tunisia, Sudan, Chad and Niger. It wanted to unify efforts aimed at supporting the country's political road map that ended hostilities last year and set parliamentary and presidential elections in December.
They also called for foreign fighters and mercenaries to be pulled out from the conflict-stricken North African nation.
They agreed on sticking to the conclusions of Berlin conferences, condemning the ongoing smuggling of weapons and sending mercenaries to armed organizations in the Arab country.
The Ministers praised efforts exerted by Algerian President, Abdelmadjid Tebboune, to reach a political solution for the crisis in Libya and restore peace, security and stability to the Arab country.
Libya has been enveloped in chaos since a NATO-backed uprising toppled longtime leader Moammar Gadhafi in 2011, and split the country between Tripoli-based government and rival authorities loyal to commander of the Libyan National Army (LNA) Khalifa Hafter in the East.