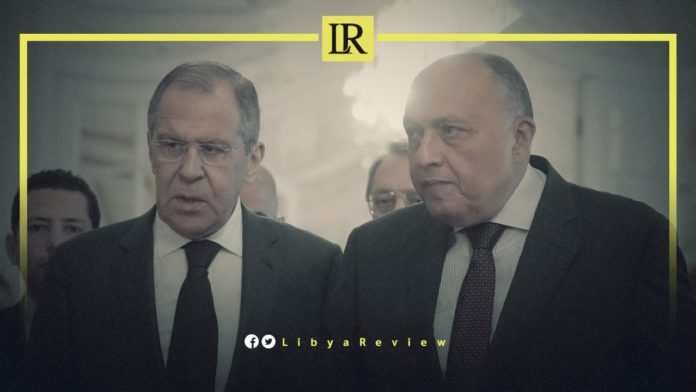 Egyptian Foreign Minister, Sameh Shoukry met with his Russian counterpart, Sergey Lavrov in Moscow, to discuss a number of regional issues, especially the Libyan crisis.
Shoukry said during a joint press conference on Monday, that they discussed ways to maintain the stability and unity of Libya, affirmed the need to maintain the ceasefire, and ensure the exit of all foreign forces from Libya.
The meeting also dealt with the full implementation of the roadmap approved by the Libyan Political Dialogue Forum (LPDF), and the importance of holding elections on 24 December.
Shoukry stressed that Cairo will continue to provide support to achieve these goals, "which will protect the sovereignty of Libya, its stability and security."
"Terrorist organizations are using Libya as a sanctuary to influence its stability, that of neighbouring countries, the Sahel and Sahara region, and even Africa as a whole," the Egyptian FM said.
Shoukry stressed the need for Egyptian-Russian cooperation and coordination, to eliminate terrorism in the region.
On 27 September, Lavrov said that "it is not important that foreign forces and mercenaries be withdrawn from Libya before or after December elections. Rather the process should be carried out gradually to prevent disruption of the balance of power between the two parties to the conflict."
Lavrov added, in a press conference in New York on the sidelines of the United Nations General Assembly, that the Berlin II Conference stressed the need for all foreign militants to leave Libya.
He noted that the ceasefire had been in place for nearly a year, and "there was no justification for resorting to military solutions to end the country's problems."
The Russian FM stressed Moscow's willingness to help in the withdrawal of foreign forces and mercenaries from the North African country, within the framework set by the 5+5 Joint Military Commission (JMC).