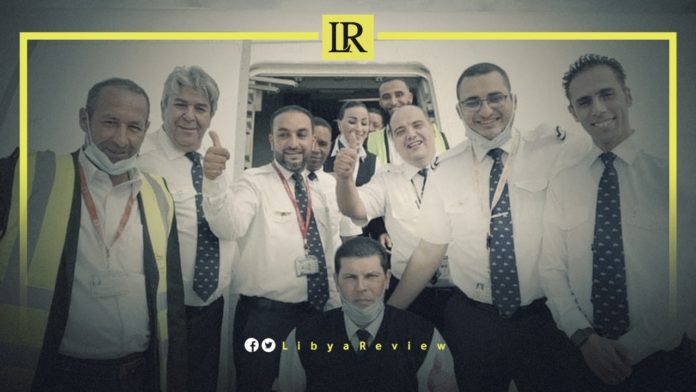 On Saturday, the Libyan state-owned Afriqiyah Airways announced that its first flight coming from Mitiga airport in Tripoli has landed in Cairo International Airport after a suspension that lasted seven years.
The company shared some pictures of the flight crew on its Facebook page, announcing that the first flight from Benina International Airport is set to take off from Benghazi at 11:30 AM tomorrow.
Afriqiyah Airways plans to fly 9 weekly flights from Libyan airports to Cairo International Airport while adhering to preventive measures against the COVID-19 virus, informed sources said.
This includes abiding by the Egyptian government's policy of banning visitors from abroad from entering the country until they present a negative PCR test result 72 hours before the flight.
This does not include children under 6 years of age of all nationalities.
The Egyptian Civil Aviation Authority suspended flights between Libya and Cairo in 2014 due to the insecurity and political turbulence that was rampant in Libya in the past 7 years.
The decision to resume flights came after a visit to Cairo paid by the Libyan Prime Minister Abdelhamid Al-Dbaiba a few days ago, where a number of agreements were signed between the two countries.
Egypt and Libya had signed more than 14 economic agreements and memoranda of understanding (MoU) in the Egyptian capital, Cairo, with an initial value exceeding billions of dollars.
On March 16th, power was handed over from the former Presidential Council to the new one, and from the 2014 Government of National Accord (GNA) to the Government of National Unity (GNU), which is supposed to pave the way for holding elections on December 24th.
The government's main task is to prepare for the general elections to be held later this year, as approved by the Libyan Political Dialogue Forum (LPDF).
Parliament has announced the withdrawal of confidence from the GNU but kept it as a caretaker government.