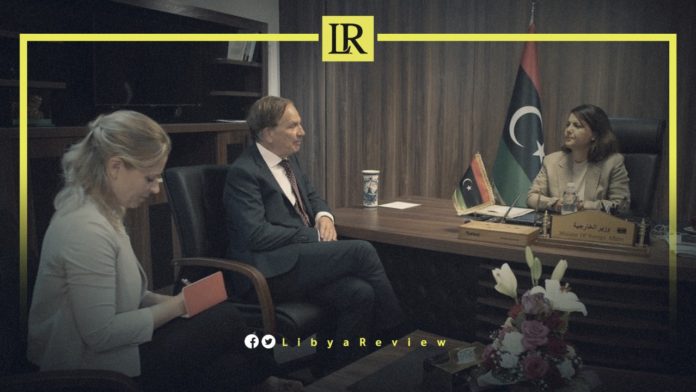 On Monday, Libyan Foreign Minister, Najla Al-Mangoush held talks with the Netherlands Ambassador to Libya, Dolf Hogewoning in Tripoli. They discussed the preparations being made by all state institutions to hold the upcoming elections, scheduled for 24 December 2021.
They also discussed the remarkable efforts made by the 5 + 5 Joint Military Commission (JMC), and the important progress it has achieved to establish security and stability across the country.
The two sides also touched on the latest developments in Libya, and ways to enhance bilateral relations, according to a statement by the foreign ministry's media office.
Al-Mangoush also briefed the Netherlands diplomat on the 'Libya Stability Initiative' proposed by the Libyan Government of National Unity (GNU) in June. As well as emphasising the importance of activating the previously signed agreements between the two countries and strengthening cooperation in all fields.
During the meeting, she said Libya plans to organize and chair an international conference on 21 October to start implementing the articles of the Stability Initiative based on the outcomes of the Berlin I and II Conferences, and UN Security Council resolutions 2570 and 2571.
The FM stated that the settlement process is facing numerous challenges, but the GNU is adamant in fully implementing the roadmap of the Libyan Political Dialogue Forum (LPDF). She claimed her government prioritizes sovereignty, the exit of foreign forces and mercenaries, as well as achieving national reconciliation through the Presidential Council's High National Reconciliation Commission.
Ambassador Hogewoning expressed his full support for all Libyan efforts aimed at achieving stability in Libya, foremost of which, the Libya Stability Initiative.
Regarding the issue of illegal immigration, Al-Mangoush stressed the importance of "concerted international efforts to find permanent solutions to address all causes of such phenomenon in Libya and other African countries."