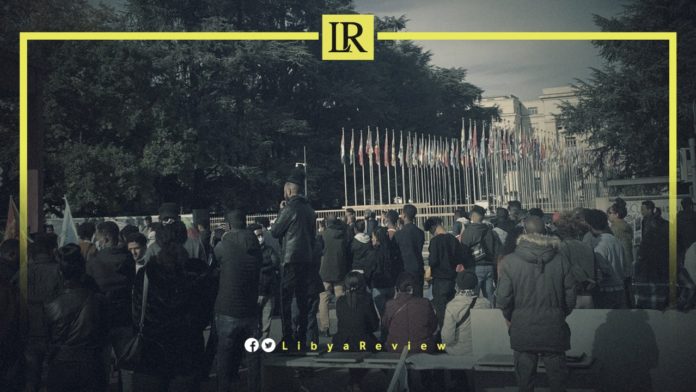 On Friday, dozens of African migrants in Europe staged a protest in front of the United Nations (UN) headquarters in Geneva, denouncing the repeated attacks on migrants and asylum seekers in Libya.
Violence against migrants recently escalated in Libya, and the United Nations High Commissioner for Refugees (UNHCR) in the capital Tripoli has suspended its work.
One of the protesters in Geneva, Hakim Daher (30 years), said in statements to 218 News that the demonstrations will continue in other European capitals, in order to shed light on the suffering of asylum seekers and migrants in Libya.
Daher added that the protests call on the Libyan government "to do everything in its power to protect migrants and asylum seekers."
He also called on the UN to play its role in assisting asylum seekers in Libya, and to call on other countries to evacuate them urgently, "to avoid enduring and unending suffering."
On the 6th of October, 500 migrants managed to escape from the Gheriyan centre and were chased by guards who opened fire using live ammunition.
The UN has repeatedly condemned the inhuman conditions in Libya's detention centres in which migrants and refugees are held in severely overcrowded facilities with limitations on their access to life-saving humanitarian assistance.
On Friday, the Libyan Attorney General's Office that the Public Prosecution decided to imprison 3 Libyans for detaining immigrants and treating them in a cruel and humiliating manner.
The statement indicated that the Attorney General ordered urgent investigations to reveal the circumstances of the death of an immigrant in the Ghout al-Shaal shelter center on October 8th, in Tripoli.
The Prosecution's investigations resulted in the identification of the perpetrator of the migrant's murder in the shelter, and an arrest warrant was issued for him. The statement did not mention the name or the rank of the perpetrator.