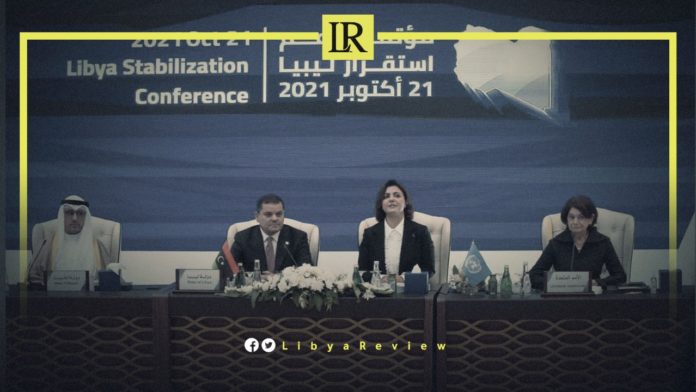 On Thursday, Tripoli hosted an international conference to help build stability in Libya ahead of the presidential elections planned for December.
Around 30 delegations travelled to the capital Tripoli. Among them are representatives from the United Nations (UN), European Union (EU), African Union (AU) and the Arab League, (AL) according to the AFP.
French Foreign Minister, Jean-Yves Le Drian, attended, including officials from regional powers including the United States, Germany, Italy, Turkey, Saudi Arabia, Egypt and Algeria.
Ahead of this conference strict security measures were taken. The police closed the coastal road leading to Corinthia Hotel, where the conference was held.
On Sunday, the Libyan Foreign Minister, Najlaa Al-Mangoush, said the Conference of Supporting Libyan Stability aims to ensure the optimal implementation of UN resolutions, and the decisions of the Berlin 1 and Berlin 2 conferences regarding Libya, she explained.
"Through this initiative, we want Libya to be an arena for positive economic competition, with the aim of creating a national mechanism and a unified international and regional position that is supportive and consistent with this vision," the Libyan Foreign Minister added.
She confirmed that the initiative aims to ensure, "the withdrawal of all mercenaries, foreign fighters, and foreign forces from Libya."
The Libyan Foreign Minister stated that the goal of the initiative is also to "push the economy forward, and improve the standard of living."
However, Libyan observers fear that the Government of National Unity (GNU) is trying to delay the agreed presidential elections, trying to earn time and prolong its rule of the country.
The UN-backed roadmap called for parliamentary and presidential elections to take place on the 24th of December.
The Libyan House of Representatives (HoR) issued the Presidential Election Law on September 8th, stressing the necessity to hold elections on December 24th.
18 Libyan Members of Parliament (MPs) accused Al-Mangoush of mobilizing international support for the conference, saying that the Foreign Minister aims to postpone the elections scheduled for December 24th.
In their statement, the MPs said the Libyan Foreign Minister attempts to "circumvent the people's demand and their right to elect a Head of State."
"The conference is based on postponing the most important entitlement awaited by all Libyans, which is the elections, and limiting them to parliamentary elections only," the MPs explained.
The Libyan MPs warned that all the moves and conferences that do not support holding elections on time "are violations of the outputs of Berlin and Geneva conferences"
Meanwhile, the Libyan HoR announced the withdrawal of confidence from the GNU, but kept it as a caretaker government. Hajar Al-Qayed, a member at the Libyan Political Dialogue Forum (LPDF), said Parliament's decision came after reports have talked about the intention of Al-Dbaiba to postpone the elections for the next two years.