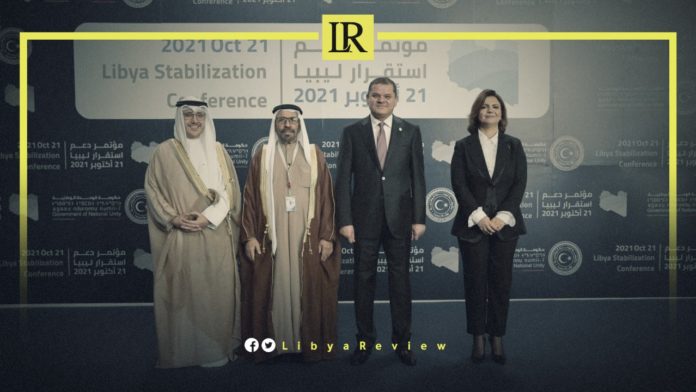 The United Arab Emirates (UAE) welcomed the Action Plan signed by the Libya's 5+5 Joint Military Commission (JMC) on the gradual and simultaneous withdrawal of foreign forces and mercenaries from Libya.
The UAE's Minister of State, Khalifa Shaheen Al-Marar, said that the plan will support the consolidation of the ceasefire and the unification of Libyan institutions.
Al-Marar headed the Emirati delegation that participated in the Conference to Support the Stability of Libya, in the Libyan capital, Tripoli, on Thursday.
He also expressed the UAE's stand and solidarity with the Government of National Unity (GNU) and the Libyan people, according to the Emirates News Agency.
Al-Marar called for unifying international efforts to enable the GNU, the Military Committee, and the relevant Libyan institutions to achieve the transitional phase's requirements.
Libya hosted an international conference to help build stability in Libya ahead of crucial presidential elections supposed to be held in December.
Around 30 international delegations attended the conference. Among them were representatives from the United States, Egypt, United Arab Emirates (UAE), Qatar, United Nations (UN), European Union (EU), African Union (AU) and the Arab League (AL).
"The conference aims to ensure the optimal implementation of UN resolutions, and the decisions of the Berlin 1 and Berlin 2 conferences regarding Libya," Libyan Foreign Minister, Najlaa Al-Mangoush, said on Sunday.
She confirmed that the conference aims to ensure, "the withdrawal of all mercenaries, foreign fighters, and foreign forces from Libya."
The UN-backed roadmap called for parliamentary and presidential elections on the 24th of December, and removing all foreign forces and mercenaries from Libya.
On October 8th, the JMC signed a comprehensive Action Plan for the withdrawal of foreign forces from Libya. Such a plan will be the cornerstone for the gradual, balanced, and sequenced process of the withdrawal of mercenaries, foreign fighters and foreign forces from Libyan territory.
The plan includes 4 main points, the first of which is the withdrawal of foreign forces to agreed points in Benghazi and Tripoli.
The second step included deploying UN-observers to work on implementing the foreign forces' withdrawal in a gradual and balanced manner. The first group of UN ceasefire monitors have already arrived in the capital Tripoli.
The third step included provided that the observers will monitor the real numbers of foreign forces and mercenaries from Libya and documenting them accurately.
"Finally, the mercenaries are deported from Libya in successive batches according to a time map, which estimates said it will end by 2023," sources told Sky News Arabia.