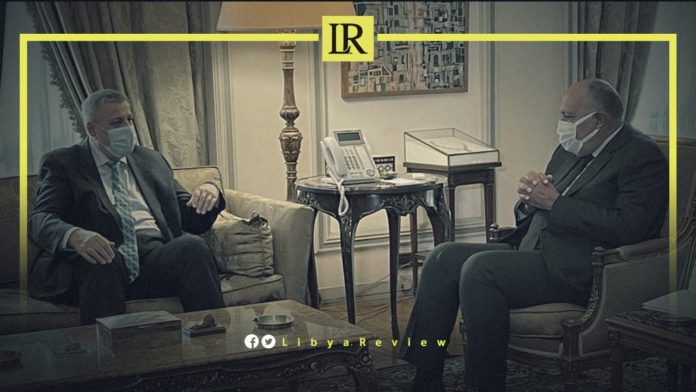 On Saturday, the Egypt Foreign Minister, Sameh Shoukry, held a meeting with the United Nations (UN) Special Envoy for Libya, Ján Kubiš, in Cairo to discuss the latest developments in the North African Arab country.
In a statement, the Spokesman for the Egyptian Foreign Ministry, Ahmed Hafez, said that Shoukry reiterated his call for the exit of all foreign forces and mercenaries from Libya.
During the meeting, Shoukry voiced his country's complete rejection of all kinds of foreign presence in Libya. Foreign presence represents a clear threat to Libyan sovereignty over all of its national soil, in addition to its direct negative repercussions on the security of its neighboring countries and regional stability.
The Egyptian top diplomat stressed the need for any international moves in this regard to ending all forms of foreign interference in Libya's affairs without any exception or distinction.
He also highlighted the importance of coordinating efforts in order to take a decisive stance against some parties who continue to violate the arms embargo on Libya.
Shoukry added he looks forward to the absence of any exclusion or marginalization in the elections for Libya to restore its effective Arab and African role.
The Minister noted that Egypt has been working on creating a common ground among various Libyan factions so they would reach a joint national integrated vision aimed at resolving the causes of the political, economic, and security crises the country has been enduring since 2011.
The meeting also touched on the need to hold the upcoming parliamentary and presidential elections on December 24th, according to the roadmap approved by the Libyans, and the relevant Security Council resolutions.
In turn, the UN envoy briefed Minister Shoukry on the outcomes of his contacts with the various parties concerned with the Libyan crisis, and his vision for stabilizing the situation in Libya.
Kubiš also expressed his appreciation for Egypt's supportive role in stabilizing Libya. He stressed the importance of working to mobilize efforts to meet the legitimate aspirations of the Libyan people towards development and prosperity.