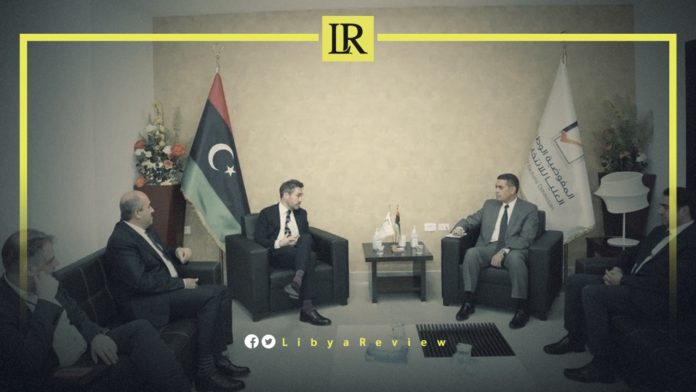 The Head of the Libyan High National Election Commission (HNEC), Emad Al-Sayeh, discussed the international community's support for the upcoming Libyan elections, with the Resident Representative of the United Nations Development Program (UNDP) in Libya, Marc-André Franche.
The meeting was held at the HNEC office in Tripoli. They discussed the updates of the electoral process and the progress made by the HNEC in the field of holding presidential and parliamentary elections simultaneously. The aim is to stabilize the country.
Franche reiterated the international community's support for the elections in Libya, which will be held on December 24th, according to the People Project, and the agreements concluded by this project with donor countries in order to raise the level of HNEC readiness.
It is noteworthy that the UNDP signed on the 24th of this October with the Government of Japan an agreement to support Project People. The aim is to provide technical and advisory support and increasing the HNEC readiness to hold the upcoming elections, in the presence of Emad Al-Sayeh.
Last September, the UNDP Administrator, Achim Steiner, appointed Marc-André Franche as Resident Representative ad interim for Libya. Marc-André Franche assumed his new functions in Tripoli.
The UNDP in Libya, with the support of its international and national partners, accompanies national and local authorities, civil society and the private sector to build peace and stability paving the way to sustainable development for all Libyans.
Support notably includes strengthening resilience across, supporting the democratic process through fair and credible elections and accompanying the national reconciliation.
Khalida Bouzar, UNDP's Regional Director for the Arab States, underlined, "the appointment of Franche and the new management team of UNDP Libya underscores the priority given to Libya by UNDP and our commitment to redouble efforts to accompany the country's peaceful transition."
Franche stated, "the UNDP Libya reaffirms its commitment to accompany the electoral process and continue strengthening democratic institutions helping the country move forward towards the achievement of the 2030 Agenda for Sustainable Development in a peaceful and unified way."
Franche brings to the position over 20 years of experience in international development and conflict prevention with the United Nations (UN). He previously headed the UN Secretary-General's Peacebuilding Fund, which supports more than 40 countries around the world to prevent violent conflict, avoid the resumption of conflict or encourage reconciliation.