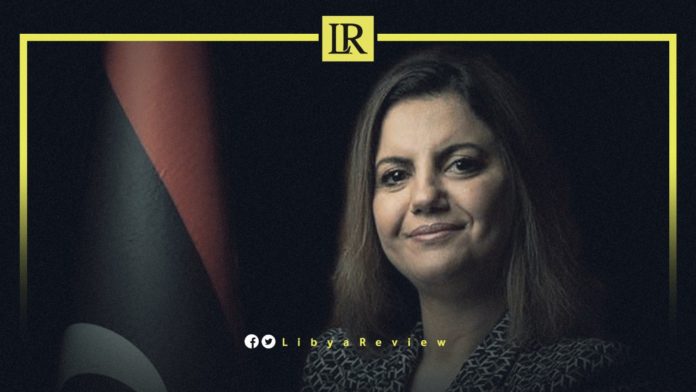 The Libyan Presidential Council decided to suspend Foreign Minister, Najla Al-Mangoush from working "as a precaution" to investigate "administrative violations" attributed to her actions. The alleged violations are comprised of carrying out foreign policy without coordination with the Presidential Council.
On Saturday, Resolution No. 44 of 2021 stipulated banning Al-Mangoush from traveling outside the country until the completion of investigations and a decision on the results by the Presidential Council.
The decision also stipulated, in its third article, the formation of an investigation committee with Al-Mangoush, headed by the Council Vice-President, Abdullah Al-Lafi, and the membership of Adel Mohamed Sultan and Ahmed Jumaa Aqoub.
The fourth article of the decision stipulated that the committee submit the results of its work within a maximum deadline of 14 days from the date of the decision.
Days ago, BBC reported that Al-Mangoush said that her country could work with the US on extraditing a man wanted over the 1988 Lockerbie bombing.
Al-Mangoush told the BBC that "positive outcomes are coming" in the case of Abu Agila Mohammed Masud. Masud is alleged to have been a top bomb-maker for former Libyan leader Muoammar Gaddafi.
The deadly attack on Pan Am Flight 103 from London to New York killed 270 people, including 190 Americans. It remains the deadliest terrorist incident ever to have taken place in the United Kingdom (UK) and the second deadliest air attack in United States (US) history.
Of those who died, 35 were study-abroad US students who were returning home for Christmas, while 11 were killed on the ground in the Scottish town.
Al-Mangoush said the Libyan government "understands the pain and sadness" of the victims' families but "needs to respect the laws". The US and Libya were collaborating on the case, she said, and it was progressing. Masud is a former Libyan intelligence official who is currently in a Libyan prison having been convicted on unrelated charges.
Much has changed in Libya since the Lockerbie bombing. Gaddafi was overthrown and killed by rebels in 2011 and the country has been beset by unrest since then.